If you are experiencing the onset of cataracts, you know how difficult seeing can be. You may be struggling with night vision or even have sensitivity to sunlight. Fortunately, cataract surgery can help you regain what you've lost, both in terms of vision and quality of life, thanks to a technological breakthrough.
Traditional cataract surgery is one of the most routinely performed surgeries, with a generally safe and effective outcome when performed by a skilled surgeon. However, it still requires the use of a hand-held blade to make incisions in the cornea. Femtosecond laser-assisted cataract surgery offers a reproducible technique, replacing the least predictable and most technically demanding steps of traditional cataract procedures.
Now offering patients the LenSx laser refractive cataract surgery system, a type of cataract surgery that offers a greater level of precision and customization. Patients can benefit from this innovative solution: a bladeless, computer-controlled laser, which allows the surgeon to plan and perform the surgery to exact individualized specifications.
Patients can move forward with confidence knowing that they've chosen the most advanced technology available for this life-changing procedure — the LenSx, the one that enables a customized cataract surgery experience.
Why use customized laser refractive cataract surgery?
While all human eyes share the same basic anatomical structure, every eye is just a bit different in terms of size, depth, curvature of the cornea and other key features. This is why every eye must be carefully measured and mapped prior to cataract surgery.
The LenSx laser uses a range of highly advanced technologies — including integrated optical coherence tomography (OCT) — to capture extremely precise, high-resolution images of your eyes. These images, and the measurements and data they provide are then used to plan and perform a surgery to exacting specifications not attainable with traditional surgery.
Matching the right implant for your lifestyle
During both basic and laser refractive cataract surgery, the lens with cataract is removed and a new lens is inserted into the eye. Traditional IOLs are monofocal, meaning they offer vision at one distance only (far, intermediate or near). The new multifocal and accommodating IOLs offer the possibility of seeing well at more than one distance, without glasses or contacts.
Discussing patient lifestyle and vision needs is paramount prior to cataract surgery.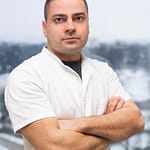 Još od ranog djetinjstva bio sam oduševljen oftalmologijom, za mene najljepšom granom medicine. Pošto sam ujedno bio i dijete profesora oftalmologije, za mene je put moje karijere bio sasvim jasan i vidljiv. Nakon završetka srednje škole i uspešnog okončanja studija na Medicinskom fakultetu Banja Luka, radio sam sve što je bilo moguće kako bih se jednog dana mogao zvati i "oftalmologom." Sreća mi se osmijehnula, te sam nedugo po završteku studija dobio specijalizaciju iz oftalmologije u Kliničkom centru Banja Luka.
Trud i rad svakog ambicioznog i vrijednog studenta je bezvrijedan ako uz njega nije talentovan, požrtvovan i nesebičan mentor. U mom slučaju, to su bila dvojica ljudi koji su mi omogućili da u profesionalnom smislu postanem ovo što danas jesam. Prva osoba je moj pokojni otac, koji mi nije samo prenio ljubav prema oftalmologiji, nego je bio i najveća podrška mojoj karijeri. Druga osoba je moj "drugi otac", prof. Nikica Gabrić, osnivač i vlasnik Klinika Svjetlost. On me je učio ne samo oftalmologiji i najnovijim vještinama, nego i filozofiji i psihologiji života. Zahvaljujući njemu, danas sam ne samo bolji oftalmolog, nego i bolji čovjek.
Liječenje bolesti oka nije uvijek lako, ali je sigurno uvijek interesantno. Živjeti i raditi u zemlji u razvoju i regionu punom izazova nije nikada bez uzbuđenja. Stoga sa ponosom mogu da kažem da sam bio dio tima koji je, sada već davne 2008. godine, prvi put izveo operaciju laserske korekcije dioptrije u Bosni i Hercegovini. Danas su refraktivne hirurške procedure, kao što su LASIK, Epi-LASIK, PRK i LASEK dio moje svakodnevne rutine i istinski nikada ne bih mogao biti srećniji zbog toga.
Osim mojih svakodnevnih stručnih i naučnih aktivnosti, uživam i u menadžerskim poslovima. Već skoro osam godina na čelu sam Klinike Svjetlost u Banjaluci. Svi moji saradnici, doktori i medicinske sestre, su vrijedni mladi ljudi na koje sam svaki dan sve više ponosan.