If you are experiencing the onset of cataracts, you know how difficult seeing can be. You may be struggling with night vision or even have sensitivity to sunlight. Fortunately, cataract surgery can help you regain what you've lost, both in terms of vision and quality of life, thanks to a technological breakthrough.
Traditional cataract surgery is one of the most routinely performed surgeries, with a generally safe and effective outcome when performed by a skilled surgeon. However, it still requires the use of a hand-held blade to make incisions in the cornea. Femtosecond laser-assisted cataract surgery offers a reproducible technique, replacing the least predictable and most technically demanding steps of traditional cataract procedures.
Now offering patients the LenSx laser refractive cataract surgery system, a type of cataract surgery that offers a greater level of precision and customization. Patients can benefit from this innovative solution: a bladeless, computer-controlled laser, which allows the surgeon to plan and perform the surgery to exact individualized specifications.
Patients can move forward with confidence knowing that they've chosen the most advanced technology available for this life-changing procedure — the LenSx, the one that enables a customized cataract surgery experience.
Why use customized laser refractive cataract surgery?
While all human eyes share the same basic anatomical structure, every eye is just a bit different in terms of size, depth, curvature of the cornea and other key features. This is why every eye must be carefully measured and mapped prior to cataract surgery.
The LenSx laser uses a range of highly advanced technologies — including integrated optical coherence tomography (OCT) — to capture extremely precise, high-resolution images of your eyes. These images, and the measurements and data they provide are then used to plan and perform a surgery to exacting specifications not attainable with traditional surgery.
Matching the right implant for your lifestyle
During both basic and laser refractive cataract surgery, the lens with cataract is removed and a new lens is inserted into the eye. Traditional IOLs are monofocal, meaning they offer vision at one distance only (far, intermediate or near). The new multifocal and accommodating IOLs offer the possibility of seeing well at more than one distance, without glasses or contacts.
Discussing patient lifestyle and vision needs is paramount prior to cataract surgery.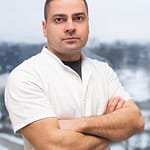 Bojan Kozomara (Banjaluka, 30. decembra 1978) je doktor medicine, specijalista oftamologije i direktor specijalne oftalmološke bolnice Svjetlost Banja Luka.
U svom rodnom gradu završio je Gimnaziju i Medicinski fakultet, a 2009. godine specijalizovao se za oblast oftamologije. 2016. godine postao je magistar medicinskih nauka iz oblasti oftamologije, a svoju profesiju usavršio je na Klinici za očne bolesti, VMA Beograd, Srbija, te na Klinici Oculistica Universita "Careggi", u Firenci, Italija. Nakon završene specijalizacije u Italiji, odlučio se vratiti u rodnu Banjaluku i tu pokrenuti privatnu kliniku, koja će za vrlo kratko vrijeme postati popularna i prepoznatljiva u regionu, ali i svijetu.