LASIK and other refractive laser surgery procedures remain a safe way to reduce or eliminate the need for contacts and glasses. However, finding a
screening method for potential patients to ensure safety remains challenging for surgeons and laser centers.
The reason lies in the mechanical properties of the cornea. The cornea itself is the clear, front window of the eye and like many tissues in the body, it has unique properties that allow it to function properly.
The cornea is referred to as a viscoelastic material. It is elastic in that it bounces back to its original shape when deformed and also absorbs energy at the same time. This allows it to maintain its shape while still being able to take a hit and recover. Keeping its shape is important because it is this shape that allows it to focus light accurately and provide clear vision.
The problem lies with corneas that are naturally squishy and may not hold their shape following LASIK.
But the squishy factor is difficult to calculate and varies from person to person. The only thing we can say for sure is that cornea becomes less squishy as we age. It is for this reason many LASIK surgeons wait until patients are in their early 20s before they recommend the procedure. At this age it is felt naturally squishy corneas will have firmed up enough to allow for safe surgery with predictable results.
This general rule of thumb has been adopted by almost all laser center throughout the world and when combined with extensive screening procedures, an excellent result is guaranteed.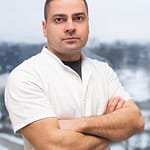 Bojan Kozomara (Banjaluka, 30. decembra 1978) je doktor medicine, specijalista oftamologije i direktor specijalne oftalmološke bolnice Svjetlost Banja Luka.
U svom rodnom gradu završio je Gimnaziju i Medicinski fakultet, a 2009. godine specijalizovao se za oblast oftamologije. 2016. godine postao je magistar medicinskih nauka iz oblasti oftamologije, a svoju profesiju usavršio je na Klinici za očne bolesti, VMA Beograd, Srbija, te na Klinici Oculistica Universita "Careggi", u Firenci, Italija. Nakon završene specijalizacije u Italiji, odlučio se vratiti u rodnu Banjaluku i tu pokrenuti privatnu kliniku, koja će za vrlo kratko vrijeme postati popularna i prepoznatljiva u regionu, ali i svijetu.