LASIK and other refractive laser surgery procedures remain a safe way to reduce or eliminate the need for contacts and glasses. However, finding a
screening method for potential patients to ensure safety remains challenging for surgeons and laser centers.
The reason lies in the mechanical properties of the cornea. The cornea itself is the clear, front window of the eye and like many tissues in the body, it has unique properties that allow it to function properly.
The cornea is referred to as a viscoelastic material. It is elastic in that it bounces back to its original shape when deformed and also absorbs energy at the same time. This allows it to maintain its shape while still being able to take a hit and recover. Keeping its shape is important because it is this shape that allows it to focus light accurately and provide clear vision.
The problem lies with corneas that are naturally squishy and may not hold their shape following LASIK.
But the squishy factor is difficult to calculate and varies from person to person. The only thing we can say for sure is that cornea becomes less squishy as we age. It is for this reason many LASIK surgeons wait until patients are in their early 20s before they recommend the procedure. At this age it is felt naturally squishy corneas will have firmed up enough to allow for safe surgery with predictable results.
This general rule of thumb has been adopted by almost all laser center throughout the world and when combined with extensive screening procedures, an excellent result is guaranteed.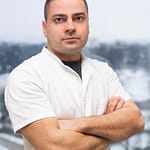 Još od ranog djetinjstva bio sam oduševljen oftalmologijom, za mene najljepšom granom medicine. Pošto sam ujedno bio i dijete profesora oftalmologije, za mene je put moje karijere bio sasvim jasan i vidljiv. Nakon završetka srednje škole i uspešnog okončanja studija na Medicinskom fakultetu Banja Luka, radio sam sve što je bilo moguće kako bih se jednog dana mogao zvati i "oftalmologom." Sreća mi se osmijehnula, te sam nedugo po završteku studija dobio specijalizaciju iz oftalmologije u Kliničkom centru Banja Luka.
Trud i rad svakog ambicioznog i vrijednog studenta je bezvrijedan ako uz njega nije talentovan, požrtvovan i nesebičan mentor. U mom slučaju, to su bila dvojica ljudi koji su mi omogućili da u profesionalnom smislu postanem ovo što danas jesam. Prva osoba je moj pokojni otac, koji mi nije samo prenio ljubav prema oftalmologiji, nego je bio i najveća podrška mojoj karijeri. Druga osoba je moj "drugi otac", prof. Nikica Gabrić, osnivač i vlasnik Klinika Svjetlost. On me je učio ne samo oftalmologiji i najnovijim vještinama, nego i filozofiji i psihologiji života. Zahvaljujući njemu, danas sam ne samo bolji oftalmolog, nego i bolji čovjek.
Liječenje bolesti oka nije uvijek lako, ali je sigurno uvijek interesantno. Živjeti i raditi u zemlji u razvoju i regionu punom izazova nije nikada bez uzbuđenja. Stoga sa ponosom mogu da kažem da sam bio dio tima koji je, sada već davne 2008. godine, prvi put izveo operaciju laserske korekcije dioptrije u Bosni i Hercegovini. Danas su refraktivne hirurške procedure, kao što su LASIK, Epi-LASIK, PRK i LASEK dio moje svakodnevne rutine i istinski nikada ne bih mogao biti srećniji zbog toga.
Osim mojih svakodnevnih stručnih i naučnih aktivnosti, uživam i u menadžerskim poslovima. Već skoro osam godina na čelu sam Klinike Svjetlost u Banjaluci. Svi moji saradnici, doktori i medicinske sestre, su vrijedni mladi ljudi na koje sam svaki dan sve više ponosan.