Cataract is a form of aging of the eye caused by a clouding of the natural lens.  It can be a congenital condition, caused by certain medications, and trauma.  Once a cataract has become significant enough that it affects a person's daily life or hinders a person from enjoying their hobbies due to poor vision, it is time to consider cataract surgery.
Today, cataract surgery is accomplished very quickly with a speedy recovery period and minimal discomfort.  The lens of the eye sits in a thin bag inside the interior of the eye called the capsule.  An incision is made in the cornea either by hand or by laser, the surgeon then removes the anterior capsule, breaks apart the hardened lens and replaces it with a clear artificial lens inside the capsule.  There are a variety of options for cataract surgery out there and the ophthalmologist can give more insight into these options. These artificial lenses cannot develop cataracts.
Then, what could cause the patient's blurred vision?  In a small percentage of patients, the cells that are left inside the posterior portion of the capsule begin to multiply causing an opacity that will blur vision.  This condition is sometimes referred to as an "after cataract". Luckily, a laser procedure is done to break apart this clouding and restore cleared vision.
If the cataract surgery is fast and painless, then the YAG laser is even easier.  A numbing drop is instilled about half an hour prior to the procedure as well as a dilating drop so the laser can reach the posterior capsule through the pupil.  A second numbing drop is administered, the patient places its head in front of the laser machine and after just a few seconds and a few zaps the cells are obliterated.
Directly after the procedure intraocular pressure is checked to ensure it has not spiked and the patient is sent home.  Vision generally clears within the next couple of days.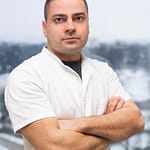 Još od ranog djetinjstva bio sam oduševljen oftalmologijom, za mene najljepšom granom medicine. Pošto sam ujedno bio i dijete profesora oftalmologije, za mene je put moje karijere bio sasvim jasan i vidljiv. Nakon završetka srednje škole i uspešnog okončanja studija na Medicinskom fakultetu Banja Luka, radio sam sve što je bilo moguće kako bih se jednog dana mogao zvati i "oftalmologom." Sreća mi se osmijehnula, te sam nedugo po završteku studija dobio specijalizaciju iz oftalmologije u Kliničkom centru Banja Luka.
Trud i rad svakog ambicioznog i vrijednog studenta je bezvrijedan ako uz njega nije talentovan, požrtvovan i nesebičan mentor. U mom slučaju, to su bila dvojica ljudi koji su mi omogućili da u profesionalnom smislu postanem ovo što danas jesam. Prva osoba je moj pokojni otac, koji mi nije samo prenio ljubav prema oftalmologiji, nego je bio i najveća podrška mojoj karijeri. Druga osoba je moj "drugi otac", prof. Nikica Gabrić, osnivač i vlasnik Klinika Svjetlost. On me je učio ne samo oftalmologiji i najnovijim vještinama, nego i filozofiji i psihologiji života. Zahvaljujući njemu, danas sam ne samo bolji oftalmolog, nego i bolji čovjek.
Liječenje bolesti oka nije uvijek lako, ali je sigurno uvijek interesantno. Živjeti i raditi u zemlji u razvoju i regionu punom izazova nije nikada bez uzbuđenja. Stoga sa ponosom mogu da kažem da sam bio dio tima koji je, sada već davne 2008. godine, prvi put izveo operaciju laserske korekcije dioptrije u Bosni i Hercegovini. Danas su refraktivne hirurške procedure, kao što su LASIK, Epi-LASIK, PRK i LASEK dio moje svakodnevne rutine i istinski nikada ne bih mogao biti srećniji zbog toga.
Osim mojih svakodnevnih stručnih i naučnih aktivnosti, uživam i u menadžerskim poslovima. Već skoro osam godina na čelu sam Klinike Svjetlost u Banjaluci. Svi moji saradnici, doktori i medicinske sestre, su vrijedni mladi ljudi na koje sam svaki dan sve više ponosan.