Doctors offer new solution to get rid of glasses
People between age 45 and 60 gradually lose the ability to read and see near. Using computers and smartphones becomes difficult. Kamra inlay can bring the world in focus. You will be able to see the dashboard and read the menu without reading glasses.
The FDA-approved Kamra inlay is a microscopically small ultra-thin doughnut-shaped lens. It is placed into the eye to improve near vision. The Kamra inlay is bio compatible, the body does not reject it. It even protects from UV rays, which cause macular degeneration.
The Kamra inlay has a central opening like the aperture of a camera. It causes a pinhole effect to expand depth of field or focus. This allows the eye to see middle and near. The eye does not lose distance vision. It is better than monovision.
In the procedure, a special laser creates a small pocket in the cornea, which is the clear outer part of the eye. Kamra inlay is then inserted into the pocket and centered over the pupil. It stays there for rest of your life.
Unlike contact lenses, Kamra inlay does not have to be removed. When your friends look at your eyes they will not be able to see it. Is the procedure painful? No, in skilled hands this procedure is not painful. It is quick and similar to Lasik eye surgery. And yes, the Kamra inlay is reversible. It can be removed.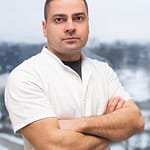 Bojan Kozomara (Banjaluka, 30. decembra 1978) je doktor medicine, specijalista oftamologije i direktor specijalne oftalmološke bolnice Svjetlost Banja Luka.
U svom rodnom gradu završio je Gimnaziju i Medicinski fakultet, a 2009. godine specijalizovao se za oblast oftamologije. 2016. godine postao je magistar medicinskih nauka iz oblasti oftamologije, a svoju profesiju usavršio je na Klinici za očne bolesti, VMA Beograd, Srbija, te na Klinici Oculistica Universita "Careggi", u Firenci, Italija. Nakon završene specijalizacije u Italiji, odlučio se vratiti u rodnu Banjaluku i tu pokrenuti privatnu kliniku, koja će za vrlo kratko vrijeme postati popularna i prepoznatljiva u regionu, ali i svijetu.