Lately, it seems like ads for LASIK are popping up everywhere—DJ's are talking about it on the radio and newscasters sing its praises, especially if they didn't like wearing glasses on camera. And it's no wonder. The technology is incredibly precise, the operation is quick, and people are happy with the results. But still, it's not for everybody, and not every "deal" is really a good value—we are talking your precious, one-of-a-kind eyes, after all. So before you jump in, make sure you look for a board-certified ophthalmologist who explains every consideration.
Who's an Ideal Candidate?
An ideal candidate for LASIK is someone with healthy eyes, age 21 or older, who has not had recent significant changes in his or her prescription. Low to moderate amounts of nearsightedness and astigmatism are best corrected by LASIK, but farsightedness can also be correctable. Overall, happiest patients are those who were extremely dependent on glasses or contact lenses. They would be legally blind without them! After LASIK, it's amazing for them to have clear vision without putting in contacts or reaching for glasses.
But…
Even though LASIK is very successful in offering freedom from eyeglasses and contact lens wear for patients who want hassle-free vision, we still find that it is not right for everyone. There are a lot of things to consider prior to LASIK. We make sure we explain them all in the preoperative visits so we can provide a customized experience for every single patient. For example, a key question to ask your surgeon would be about dry eyes after LASIK. People with a significant amount of dry eye may not the best candidates, but there may be other vision correction procedures available to them.
Technology Matters
LASIK and other refractive procedures evolve over time, and it's important to choose a practice that offers up-to-date techniques and technology. The newest machines are faster and more accurate, which leads to fewer complications and more patient comfort It's important to us that we offer patients the best care we can.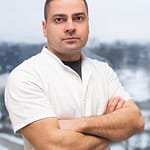 Bojan Kozomara (Banjaluka, 30. decembra 1978) je doktor medicine, specijalista oftamologije i direktor specijalne oftalmološke bolnice Svjetlost Banja Luka.
U svom rodnom gradu završio je Gimnaziju i Medicinski fakultet, a 2009. godine specijalizovao se za oblast oftamologije. 2016. godine postao je magistar medicinskih nauka iz oblasti oftamologije, a svoju profesiju usavršio je na Klinici za očne bolesti, VMA Beograd, Srbija, te na Klinici Oculistica Universita "Careggi", u Firenci, Italija. Nakon završene specijalizacije u Italiji, odlučio se vratiti u rodnu Banjaluku i tu pokrenuti privatnu kliniku, koja će za vrlo kratko vrijeme postati popularna i prepoznatljiva u regionu, ali i svijetu.