According to a recent research, one third of British adults now know someone who has been diagnosed and treated for cataracts in their 50s or 60s, despite the fact that this eye condition historically affecting those over 70 years of age. Ten years ago, if ophthalmologist had seen someone in their 50s who had cataract, he would have been really concerned, ordering extra scans and blood tests. Now such patients are regularly seen.
Almost one fifth of the hospital's inquiries about cataract treatment are now from people in their 40s and 50s.
The cause might be the impact of sun exposure and UV rays, trauma and diabetes.
Today's adults are also less tolerant of imperfections and loss of function, which makes them more likely to seek treatment earlier in life.
About 225.000 new cases of sight-reducing cataracts are expected each year in the UK.
Today, so many people are having consultations regarding refractive surgery or general eye conditions, but they become very surprised when they find out that they have cataracts.
The symptoms can be gradual, so those who have cataracts become aware of the symptoms only after they have a significant or even complete vision loss.
One of three of each and every one of us is likely to develop cataracts. This is why there's a huge necessity for all of us to really be aware of the symptoms and to have our eyes checked regularly.
Cataract is the most common cause of treatable blindness and it accounted for about 20 million cases of blindness worldwide in 2010.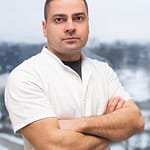 Bojan Kozomara (Banjaluka, 30. decembra 1978) je doktor medicine, specijalista oftamologije i direktor specijalne oftalmološke bolnice Svjetlost Banja Luka.
U svom rodnom gradu završio je Gimnaziju i Medicinski fakultet, a 2009. godine specijalizovao se za oblast oftamologije. 2016. godine postao je magistar medicinskih nauka iz oblasti oftamologije, a svoju profesiju usavršio je na Klinici za očne bolesti, VMA Beograd, Srbija, te na Klinici Oculistica Universita "Careggi", u Firenci, Italija. Nakon završene specijalizacije u Italiji, odlučio se vratiti u rodnu Banjaluku i tu pokrenuti privatnu kliniku, koja će za vrlo kratko vrijeme postati popularna i prepoznatljiva u regionu, ali i svijetu.