When you work at a computer for any length of time, it's common to experience eye strain, blurred vision, red eyes and other symptoms of computer vision sindrome (CVS). This is because the visual demands of computer work are unlike those associated with most other activities.
If you're under age 40, eye strain or blurred vision during computer work may be due to an inability of your eyes to remain accurately focused on your screen or because your eyes have trouble changing focus from your keyboard to your screen and back again for prolonged periods. These focusing problems often are associated with CVS.
If you're over age 40, the problem may be due to the onset of presbyopia — the normal age-related loss of near focusing ability. This, too, can cause CVS symptoms. What can you do? For starters, have a comprenhesive eye exam to rule out vision problems and update your eyeglasses prescription. Studies show that even small inaccuracies in your prescription lenses can contribute to computer vision problems.*
If your glasses are up-to-date (or you don't need prescription eyewear for most tasks) and you continue to experience eye discomfort during computer work, consider purchasing customized computer glasses. These special-purpose glasses are prescribed specifically to reduce eye strain and give you the most comfortable vision possible at your computer.
Why Computer Glasses?
Computer glasses differ from regular eyeglasses or reading glasses in a number of ways to optimize your eyesight when viewing your computer screen. Computer screens usually are positioned 20 to 26 inches from the user's eyes. This is considered the intermediate zone of vision — closer than driving ("distance") vision, but farther away than reading ("near") vision.
Most young people wear eyeglasses to correct their distance vision. Reading glasses are prescribed to correct near vision only. A biofocals prescribed for those over age 40 with presbyopia correct only near and far. Even trifocals  and progressive  lenses (which do have some lens power for intermediate vision) often don't have a large enough intermediate zone for comfortable computer work.
Without computer eyeglasses, many computer users often end up with blurred vision, eye strain, and headaches — the hallmark symptoms of computer vision syndrome. Worse still, many people try to compensate for their blurred vision by leaning forward, or by tipping their head to look through the bottom portion of their glasses. Both of these actions can result in a sore neck, sore shoulders and a sore back.Though they sometimes are called "computer reading glasses," it's best to call eyewear designed specifically for computer use "computer glasses" or "computer eyeglasses" to distinguish them from conventional reading glasses. Computer glasses put the optimum lens power for viewing your computer screen right where you need it for a clear, wide field of view without the need for excessive focusing effort or unhealthful postures.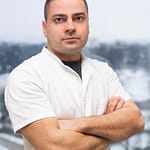 Još od ranog djetinjstva bio sam oduševljen oftalmologijom, za mene najljepšom granom medicine. Pošto sam ujedno bio i dijete profesora oftalmologije, za mene je put moje karijere bio sasvim jasan i vidljiv. Nakon završetka srednje škole i uspešnog okončanja studija na Medicinskom fakultetu Banja Luka, radio sam sve što je bilo moguće kako bih se jednog dana mogao zvati i "oftalmologom." Sreća mi se osmijehnula, te sam nedugo po završteku studija dobio specijalizaciju iz oftalmologije u Kliničkom centru Banja Luka.
Trud i rad svakog ambicioznog i vrijednog studenta je bezvrijedan ako uz njega nije talentovan, požrtvovan i nesebičan mentor. U mom slučaju, to su bila dvojica ljudi koji su mi omogućili da u profesionalnom smislu postanem ovo što danas jesam. Prva osoba je moj pokojni otac, koji mi nije samo prenio ljubav prema oftalmologiji, nego je bio i najveća podrška mojoj karijeri. Druga osoba je moj "drugi otac", prof. Nikica Gabrić, osnivač i vlasnik Klinika Svjetlost. On me je učio ne samo oftalmologiji i najnovijim vještinama, nego i filozofiji i psihologiji života. Zahvaljujući njemu, danas sam ne samo bolji oftalmolog, nego i bolji čovjek.
Liječenje bolesti oka nije uvijek lako, ali je sigurno uvijek interesantno. Živjeti i raditi u zemlji u razvoju i regionu punom izazova nije nikada bez uzbuđenja. Stoga sa ponosom mogu da kažem da sam bio dio tima koji je, sada već davne 2008. godine, prvi put izveo operaciju laserske korekcije dioptrije u Bosni i Hercegovini. Danas su refraktivne hirurške procedure, kao što su LASIK, Epi-LASIK, PRK i LASEK dio moje svakodnevne rutine i istinski nikada ne bih mogao biti srećniji zbog toga.
Osim mojih svakodnevnih stručnih i naučnih aktivnosti, uživam i u menadžerskim poslovima. Već skoro osam godina na čelu sam Klinike Svjetlost u Banjaluci. Svi moji saradnici, doktori i medicinske sestre, su vrijedni mladi ljudi na koje sam svaki dan sve više ponosan.