Scientists have uncovered a key genetic interaction underpinning glaucoma which could lead to the development of new drugs. In primary open-angle glaucoma, increased intraocular pressure can lead to the gradual death of retinal ganglion cells.
Glaucoma is believed to be caused by a number of factors, including environmental factors, ageing and genetics. A new study has identified a direct link between two genes previously implicated in the disease, which leads to the eventual death of the retinal cells. Researchers found that people with a form of one gene SIX6, which is required for normal development of the eye, showed an increase in the expression of a second gene, p16INK4a.
P16INK4a causes cells to stop growing. It has been identified as a genetic factor in a number of conditions, including cancer and heart disease and is a known major risk factor for primary open-angle glaucoma. In studies with mice the group showed that increasing expression of SIX6 resulted in increased expression of p16INK4a, demonstrating a direct link between the two. The study showed thatSIX6 and elevated intraocular pressure promote glaucoma by boosting p16INK4a leading to the demise of the ganglion cells.
High intraocular pressure in glaucoma increases expression of p16INK4a, making it a key integrator of inherent genetic and environmental risk factors that can result in glaucoma. The team report that they are now investigating ways of blocking the action of P16INK4a using small synthesized lengths of DNA or RNA. If they are effective, we may contemplate a human clinical trial in the future. At the moment the clinician's toolbox for treating glaucoma is pretty empty. These findings will generate excitement because inhibiting p16INK4a could, eventually, offer a new therapeutic approach. It's particularly interesting because high eye pressure is thought to increase expression of P16, therefore linking P16 to the best-known risk factor in glaucoma. However, there are likely several preclinical studies needed to assess the efficacy and safety of inhibiting p16INK4a expression so trials in humans will be some way off.
Taking account of genetic information, has been identified as the way forward for treating many diseases –we will eventually see an impact on eye disease too.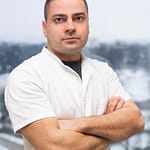 Još od ranog djetinjstva bio sam oduševljen oftalmologijom, za mene najljepšom granom medicine. Pošto sam ujedno bio i dijete profesora oftalmologije, za mene je put moje karijere bio sasvim jasan i vidljiv. Nakon završetka srednje škole i uspešnog okončanja studija na Medicinskom fakultetu Banja Luka, radio sam sve što je bilo moguće kako bih se jednog dana mogao zvati i "oftalmologom." Sreća mi se osmijehnula, te sam nedugo po završteku studija dobio specijalizaciju iz oftalmologije u Kliničkom centru Banja Luka.
Trud i rad svakog ambicioznog i vrijednog studenta je bezvrijedan ako uz njega nije talentovan, požrtvovan i nesebičan mentor. U mom slučaju, to su bila dvojica ljudi koji su mi omogućili da u profesionalnom smislu postanem ovo što danas jesam. Prva osoba je moj pokojni otac, koji mi nije samo prenio ljubav prema oftalmologiji, nego je bio i najveća podrška mojoj karijeri. Druga osoba je moj "drugi otac", prof. Nikica Gabrić, osnivač i vlasnik Klinika Svjetlost. On me je učio ne samo oftalmologiji i najnovijim vještinama, nego i filozofiji i psihologiji života. Zahvaljujući njemu, danas sam ne samo bolji oftalmolog, nego i bolji čovjek.
Liječenje bolesti oka nije uvijek lako, ali je sigurno uvijek interesantno. Živjeti i raditi u zemlji u razvoju i regionu punom izazova nije nikada bez uzbuđenja. Stoga sa ponosom mogu da kažem da sam bio dio tima koji je, sada već davne 2008. godine, prvi put izveo operaciju laserske korekcije dioptrije u Bosni i Hercegovini. Danas su refraktivne hirurške procedure, kao što su LASIK, Epi-LASIK, PRK i LASEK dio moje svakodnevne rutine i istinski nikada ne bih mogao biti srećniji zbog toga.
Osim mojih svakodnevnih stručnih i naučnih aktivnosti, uživam i u menadžerskim poslovima. Već skoro osam godina na čelu sam Klinike Svjetlost u Banjaluci. Svi moji saradnici, doktori i medicinske sestre, su vrijedni mladi ljudi na koje sam svaki dan sve više ponosan.