Scientists have uncovered a key genetic interaction underpinning glaucoma which could lead to the development of new drugs. In primary open-angle glaucoma, increased intraocular pressure can lead to the gradual death of retinal ganglion cells.
Glaucoma is believed to be caused by a number of factors, including environmental factors, ageing and genetics. A new study has identified a direct link between two genes previously implicated in the disease, which leads to the eventual death of the retinal cells. Researchers found that people with a form of one gene SIX6, which is required for normal development of the eye, showed an increase in the expression of a second gene, p16INK4a.
P16INK4a causes cells to stop growing. It has been identified as a genetic factor in a number of conditions, including cancer and heart disease and is a known major risk factor for primary open-angle glaucoma. In studies with mice the group showed that increasing expression of SIX6 resulted in increased expression of p16INK4a, demonstrating a direct link between the two. The study showed thatSIX6 and elevated intraocular pressure promote glaucoma by boosting p16INK4a leading to the demise of the ganglion cells.
High intraocular pressure in glaucoma increases expression of p16INK4a, making it a key integrator of inherent genetic and environmental risk factors that can result in glaucoma. The team report that they are now investigating ways of blocking the action of P16INK4a using small synthesized lengths of DNA or RNA. If they are effective, we may contemplate a human clinical trial in the future. At the moment the clinician's toolbox for treating glaucoma is pretty empty. These findings will generate excitement because inhibiting p16INK4a could, eventually, offer a new therapeutic approach. It's particularly interesting because high eye pressure is thought to increase expression of P16, therefore linking P16 to the best-known risk factor in glaucoma. However, there are likely several preclinical studies needed to assess the efficacy and safety of inhibiting p16INK4a expression so trials in humans will be some way off.
Taking account of genetic information, has been identified as the way forward for treating many diseases –we will eventually see an impact on eye disease too.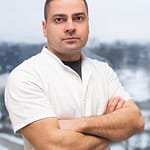 Bojan Kozomara (Banjaluka, 30. decembra 1978) je doktor medicine, specijalista oftamologije i direktor specijalne oftalmološke bolnice Svjetlost Banja Luka.
U svom rodnom gradu završio je Gimnaziju i Medicinski fakultet, a 2009. godine specijalizovao se za oblast oftamologije. 2016. godine postao je magistar medicinskih nauka iz oblasti oftamologije, a svoju profesiju usavršio je na Klinici za očne bolesti, VMA Beograd, Srbija, te na Klinici Oculistica Universita "Careggi", u Firenci, Italija. Nakon završene specijalizacije u Italiji, odlučio se vratiti u rodnu Banjaluku i tu pokrenuti privatnu kliniku, koja će za vrlo kratko vrijeme postati popularna i prepoznatljiva u regionu, ali i svijetu.