It's common for a speck of dirt to get blown into your eye, for soap to wash into your eye, or for you to accidentally bump your eye. For these types of minor eye injuries, home treatment is usually all that is needed.
Some sports and recreational activities increase the risk of eye injuries.
Very high-risk sports include boxing, wrestling, and martial arts.
High-risk sports include baseball, football, tennis, fencing, and squash.
Low-risk sports include swimming and gymnastics (no body contact or use of a ball, bat, or racket).
Direct blows to the eye can damage the skin and other tissues around the eye, the eyeball, or the bones of the eye socket. Blows to the eye often cause bruising around the eye (black eye) or cuts to the eyelid. If a blow to the eye or a cut to the eyelid  occurred during an accident, be sure to check for injuries to the eyeball itself and for other injuries, especially to the head or face. Concern about an eye injury may cause you to miss other injuries that need attention.
Burns to the eye may be caused by chemicals, fumes, hot air or steam, sunlight, tanning lamps, electric chair curlers or dryers, or welding equipment. Bursts of flames or flash fires from stoves or explosives can also burn the face and eyes.
Chemical burns can occur if a solid chemical, liquid chemical, or chemical fumes get into the eye. Many substances will not cause damage if they are flushed out of the eye quickly. Acids (such as bleach or battery acid) and alkali substances (such as oven cleansers or fertilizers) can damage the eye. It may take 24 hours after the burn to determine the seriousness of an eye burn. Chemical fumes and vapors can also irritate the eyes.
Flash burns to the cornea can occur from a source of radiation like the sun or lights. Bright sunlight (especially when the sun is reflecting off snow or water) can burn your eyes if you don't wear sunglasses that filter out ultraviolet (UV) light. Eyes that are not protected by a mask can be burned by exposure to the high-intensity light of a welder's equipment (torch or arc). The eyes also may be injured by other bright lights, such as from tanning booths or sunlamps.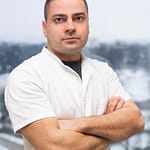 Još od ranog djetinjstva bio sam oduševljen oftalmologijom, za mene najljepšom granom medicine. Pošto sam ujedno bio i dijete profesora oftalmologije, za mene je put moje karijere bio sasvim jasan i vidljiv. Nakon završetka srednje škole i uspešnog okončanja studija na Medicinskom fakultetu Banja Luka, radio sam sve što je bilo moguće kako bih se jednog dana mogao zvati i "oftalmologom." Sreća mi se osmijehnula, te sam nedugo po završteku studija dobio specijalizaciju iz oftalmologije u Kliničkom centru Banja Luka.
Trud i rad svakog ambicioznog i vrijednog studenta je bezvrijedan ako uz njega nije talentovan, požrtvovan i nesebičan mentor. U mom slučaju, to su bila dvojica ljudi koji su mi omogućili da u profesionalnom smislu postanem ovo što danas jesam. Prva osoba je moj pokojni otac, koji mi nije samo prenio ljubav prema oftalmologiji, nego je bio i najveća podrška mojoj karijeri. Druga osoba je moj "drugi otac", prof. Nikica Gabrić, osnivač i vlasnik Klinika Svjetlost. On me je učio ne samo oftalmologiji i najnovijim vještinama, nego i filozofiji i psihologiji života. Zahvaljujući njemu, danas sam ne samo bolji oftalmolog, nego i bolji čovjek.
Liječenje bolesti oka nije uvijek lako, ali je sigurno uvijek interesantno. Živjeti i raditi u zemlji u razvoju i regionu punom izazova nije nikada bez uzbuđenja. Stoga sa ponosom mogu da kažem da sam bio dio tima koji je, sada već davne 2008. godine, prvi put izveo operaciju laserske korekcije dioptrije u Bosni i Hercegovini. Danas su refraktivne hirurške procedure, kao što su LASIK, Epi-LASIK, PRK i LASEK dio moje svakodnevne rutine i istinski nikada ne bih mogao biti srećniji zbog toga.
Osim mojih svakodnevnih stručnih i naučnih aktivnosti, uživam i u menadžerskim poslovima. Već skoro osam godina na čelu sam Klinike Svjetlost u Banjaluci. Svi moji saradnici, doktori i medicinske sestre, su vrijedni mladi ljudi na koje sam svaki dan sve više ponosan.