It's common for a speck of dirt to get blown into your eye, for soap to wash into your eye, or for you to accidentally bump your eye. For these types of minor eye injuries, home treatment is usually all that is needed.
Some sports and recreational activities increase the risk of eye injuries.
Very high-risk sports include boxing, wrestling, and martial arts.
High-risk sports include baseball, football, tennis, fencing, and squash.
Low-risk sports include swimming and gymnastics (no body contact or use of a ball, bat, or racket).
Direct blows to the eye can damage the skin and other tissues around the eye, the eyeball, or the bones of the eye socket. Blows to the eye often cause bruising around the eye (black eye) or cuts to the eyelid. If a blow to the eye or a cut to the eyelid  occurred during an accident, be sure to check for injuries to the eyeball itself and for other injuries, especially to the head or face. Concern about an eye injury may cause you to miss other injuries that need attention.
Burns to the eye may be caused by chemicals, fumes, hot air or steam, sunlight, tanning lamps, electric chair curlers or dryers, or welding equipment. Bursts of flames or flash fires from stoves or explosives can also burn the face and eyes.
Chemical burns can occur if a solid chemical, liquid chemical, or chemical fumes get into the eye. Many substances will not cause damage if they are flushed out of the eye quickly. Acids (such as bleach or battery acid) and alkali substances (such as oven cleansers or fertilizers) can damage the eye. It may take 24 hours after the burn to determine the seriousness of an eye burn. Chemical fumes and vapors can also irritate the eyes.
Flash burns to the cornea can occur from a source of radiation like the sun or lights. Bright sunlight (especially when the sun is reflecting off snow or water) can burn your eyes if you don't wear sunglasses that filter out ultraviolet (UV) light. Eyes that are not protected by a mask can be burned by exposure to the high-intensity light of a welder's equipment (torch or arc). The eyes also may be injured by other bright lights, such as from tanning booths or sunlamps.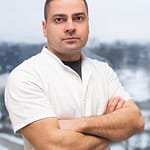 Bojan Kozomara (Banjaluka, 30. decembra 1978) je doktor medicine, specijalista oftamologije i direktor specijalne oftalmološke bolnice Svjetlost Banja Luka.
U svom rodnom gradu završio je Gimnaziju i Medicinski fakultet, a 2009. godine specijalizovao se za oblast oftamologije. 2016. godine postao je magistar medicinskih nauka iz oblasti oftamologije, a svoju profesiju usavršio je na Klinici za očne bolesti, VMA Beograd, Srbija, te na Klinici Oculistica Universita "Careggi", u Firenci, Italija. Nakon završene specijalizacije u Italiji, odlučio se vratiti u rodnu Banjaluku i tu pokrenuti privatnu kliniku, koja će za vrlo kratko vrijeme postati popularna i prepoznatljiva u regionu, ali i svijetu.