Adults whose eyes are slow to adjust to the dark have a greater risk of developing age-related macular degeneration. The findings validate a concept the UAB team first considered nearly 16 years ago: slowed dark adaptation is an early functional biomarker for AMD.
Dark adaptation refers to the time it takes for a person's eyes to adjust to darkness after being exposed to bright light. The eye uses photo receptors called cones and rods to convert light into a visual signal in the brain. Rods contribute to low light vision and night vision more so than cones. Cones take about nine to 10 minutes to adapt to darkness, while rods take longer—up to 30 minutes. The point where cones have adjusted and rods alone have completely taken over is called the rod-intercept.
The researchers studied 325 adults age 60 or older. All had healthy maculas with no degeneration. Three-quarters of the subjects had a rod-intercept of about nine minutes, which is in the normal range. Approximately 25 percent had abnormal rod-intercept, about 15 minutes. All subjects were followed for three years. Those with the slower dark adaptation—the abnormal rod-intercept—were two times more likely to develop AMD than those with normal dark adaptation.
This is the first study to show that abnormal dark adaptation is a precursor of age-related macular degeneration. This gives us a biomarker for the disease that could have tremendous impact on our ability to develop and evaluate medications for AMD in the future.
There are no proven effective treatments for early stage AMD. As medications are developed, a biomarker that can help track the onset or progression of the disease will be invaluable in evaluating the efficacy of those drugs. Development of new drugs is dependent on identifying targets on which those drugs might interact. A better understanding of dark adaptation and its role in disease will help speed that process.
In the late 1990's first discussed the possibility that dark adaptation might play a role in AMD. They noted that many patients with AMD, and also some older adults in normal macular health, complained of poor night vision.
At the time, there wasn't a suitable tool for measuring dark adaptation, so the first order of business was to create one.
>With additional funding through its small business innovation program built a prototype machine to measure dark adaptation. The device exposed a subject's eye to a flash of bright light in an otherwise completely dark environment, a process known as bleaching. The length of time that passes before the patient detects a series of visual cues is measured to determine dark adaptation.
Next steps are to look for structural changes in the tissues of the eye that might be associated with poor dark adaptation and AMD. Studies looking at changes in dark adaptation as AMD progresses could be very beneficial.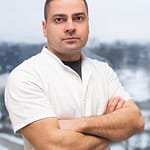 Bojan Kozomara (Banjaluka, 30. decembra 1978) je doktor medicine, specijalista oftamologije i direktor specijalne oftalmološke bolnice Svjetlost Banja Luka.
U svom rodnom gradu završio je Gimnaziju i Medicinski fakultet, a 2009. godine specijalizovao se za oblast oftamologije. 2016. godine postao je magistar medicinskih nauka iz oblasti oftamologije, a svoju profesiju usavršio je na Klinici za očne bolesti, VMA Beograd, Srbija, te na Klinici Oculistica Universita "Careggi", u Firenci, Italija. Nakon završene specijalizacije u Italiji, odlučio se vratiti u rodnu Banjaluku i tu pokrenuti privatnu kliniku, koja će za vrlo kratko vrijeme postati popularna i prepoznatljiva u regionu, ali i svijetu.