For almost a few decades scientists are trying to find the most useful way for glaucoma treatment, or at least a good intraocular pressure control.
Therefore, there is an ongoing trial with implantable micro fluid systems, which would hopefully stabilize and control intraocular pressure. This implant could be used not only in glaucoma patients, but also with those having bulbar phtisis, or patients who's eyeball has lower intraocular pressure than normal.
The most important part of this system is a pump (that activates with a help of a few sensors), battery set and telemetrical module that transfers valuable data. This complete system can be attached directly to the eyeball, while the capacity of the pump is 30 microliters/second, which satisfies the need for stable humor aqueous flow.
Depending on the type of disease, this pump can also give fluid into the eye or extract it from the eye if needed. It is expected that this implant will use natural outflow system of the eye, which would prevent scaring. By ordinary and regular ophthalmology monitoring the volume can be set to the desired level of circulation.
In the future, combination of the pump and intraocular sensors is planned, so the fluid could be regulated automatically.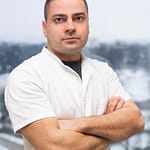 Bojan Kozomara (Banjaluka, 30. decembra 1978) je doktor medicine, specijalista oftamologije i direktor specijalne oftalmološke bolnice Svjetlost Banja Luka.
U svom rodnom gradu završio je Gimnaziju i Medicinski fakultet, a 2009. godine specijalizovao se za oblast oftamologije. 2016. godine postao je magistar medicinskih nauka iz oblasti oftamologije, a svoju profesiju usavršio je na Klinici za očne bolesti, VMA Beograd, Srbija, te na Klinici Oculistica Universita "Careggi", u Firenci, Italija. Nakon završene specijalizacije u Italiji, odlučio se vratiti u rodnu Banjaluku i tu pokrenuti privatnu kliniku, koja će za vrlo kratko vrijeme postati popularna i prepoznatljiva u regionu, ali i svijetu.