A new study of South Koreans has linked lower levels of manganese in the blood and higher mercury concentrations to a greater risk of glaucoma.The findings, published online by JAMA Ophthalmology, suggest a previously unknown risk factor for the disease, which is the leading cause of irreversible blindness worldwide.
For the study, professors of the University of California-San Francisco, tracked levels of five trace metals — manganese, mercury, lead, cadmium, and arsenic — in more than 2,600 Korean adults, as well as the prevalence of glaucoma.
The results showed that those with low manganese and high mercury levels are most likely to be diagnosed with glaucoma.
Future prospective investigations will be necessary to confirm these connections and to explore the role of trace elements in the pathogenesis of glaucoma, as well as the possible neuro protective effects, which could lead to novel therapeutic targets in glaucoma management.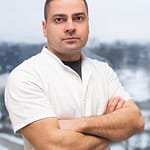 Bojan Kozomara (Banjaluka, 30. decembra 1978) je doktor medicine, specijalista oftamologije i direktor specijalne oftalmološke bolnice Svjetlost Banja Luka.
U svom rodnom gradu završio je Gimnaziju i Medicinski fakultet, a 2009. godine specijalizovao se za oblast oftamologije. 2016. godine postao je magistar medicinskih nauka iz oblasti oftamologije, a svoju profesiju usavršio je na Klinici za očne bolesti, VMA Beograd, Srbija, te na Klinici Oculistica Universita "Careggi", u Firenci, Italija. Nakon završene specijalizacije u Italiji, odlučio se vratiti u rodnu Banjaluku i tu pokrenuti privatnu kliniku, koja će za vrlo kratko vrijeme postati popularna i prepoznatljiva u regionu, ali i svijetu.