Hyperopia, or farsightedness, is a common vision problem, affecting about a fourth of the population. People with hyperopia can see distant object
s very well, but have difficulty focusing on objects that are up close.
Hyperopia Symptoms and Signs
Farsighted people sometimes have headaches or eye strain and may squint or feel fatigued when performing work at close range. If you get these symptoms while wearing your eyeglasses or contact lenses, you may need an eye exam and a new prescription.
What Causes Hyperopia?
This vision problem occurs when light rays entering the eye focus behind the retina, rather than directly on it. The eyeball of a farsighted person is shorter than normal. Many children are born with hyperopia, and some of them "outgrow" it as the eyeball lengthens with normal growth. Sometimes people confuse hyperopia with presbyopia, which also causes near vision problems but for different reasons.
Hyperopia Treatment
Farsightedness can be corrected with glasses or contact lenses to change the way light rays bend into the eyes. If your glasses or contact lens prescription begins with plus numbers, like +2.50, you are farsighted. You may need to wear your glasses or contacts all the time or only when reading, working on a computer or doing other close-up work. Refractive surgery, such as LASIK or CK, is another option for correcting hyperopia. Surgery may reduce or eliminate your need to wear glasses or contact lenses. Investigational procedures involving corneal inlays and onlays may be a future option for correcting hyperopia.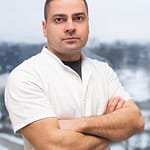 Bojan Kozomara (Banjaluka, 30. decembra 1978) je doktor medicine, specijalista oftamologije i direktor specijalne oftalmološke bolnice Svjetlost Banja Luka.
U svom rodnom gradu završio je Gimnaziju i Medicinski fakultet, a 2009. godine specijalizovao se za oblast oftamologije. 2016. godine postao je magistar medicinskih nauka iz oblasti oftamologije, a svoju profesiju usavršio je na Klinici za očne bolesti, VMA Beograd, Srbija, te na Klinici Oculistica Universita "Careggi", u Firenci, Italija. Nakon završene specijalizacije u Italiji, odlučio se vratiti u rodnu Banjaluku i tu pokrenuti privatnu kliniku, koja će za vrlo kratko vrijeme postati popularna i prepoznatljiva u regionu, ali i svijetu.