The structure of the microvasculature or blood vessels in the iris could play an important role in people's contraction of eye maladies like glaucoma and cataract. The recent research aimed to investigate the role of the iris microvasculature and its endothelium, the layer of cells lining the vessels.
The iris is the only vascular tissue (consisting of blood vessels) in the anterior chamber, immersed in the aqueous humour and surrounded by several avascular tissues (lacking blood vessels) including the cornea, trabecular meshwork and lens.
Trabecular meshwork is known to be a key structure in the pathogenic process of glaucoma, and lens is the part [that] grows opaque when people get cataract. Any blockage or any dysfunction of the trabecular meshwork would decrease aqueous flow-out, which would result in high ocular pressure, the main character of glaucoma.
Researchers perfused (passed a fluid through) the temporal long posterior ciliary artery of 11 pig eyes and studied the iris' blood vessels for their distribution, orders and endothelial characteristics. They used the micropipette to cannulate into the vessel and the other end of the pipette is connected to a pump, which we use to control the flow rate and to perfuse the eye. They could flush out the blood cells and then perfuse with silver nitrate. Nitrate turns up blood vessels and cell patterns. Silver nitrate deposited at intracellular gaps and turned from white to black after exposure to bright light, making the blood vessels and endothelial cell arrangements visible under a microscope. They determined the iris had a high density of microvasculature, and an unusual blood vessel distribution pattern.
All these findings suggest the iris has a high blood-flow rate and capability for sufficient nutrient and waste exchange between the blood stream and the iris stroma. Changes in oxygen gradients and oxidative stress have previously found to be a major pathogenic factor for cataract and glaucoma.
The iris microvasculature is the main source of oxygen for the avascular tissues (lacking in blood vessels) in the anterior chamber, leading scientists to believe it plays a critical role in maintaining the balance of oxygen.
The research says any malfunction in the waste exchange process would harm the lens and trabecular meshwork, the key structures in cataract and glaucoma formation.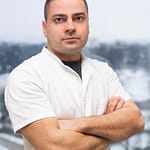 Još od ranog djetinjstva bio sam oduševljen oftalmologijom, za mene najljepšom granom medicine. Pošto sam ujedno bio i dijete profesora oftalmologije, za mene je put moje karijere bio sasvim jasan i vidljiv. Nakon završetka srednje škole i uspešnog okončanja studija na Medicinskom fakultetu Banja Luka, radio sam sve što je bilo moguće kako bih se jednog dana mogao zvati i "oftalmologom." Sreća mi se osmijehnula, te sam nedugo po završteku studija dobio specijalizaciju iz oftalmologije u Kliničkom centru Banja Luka.
Trud i rad svakog ambicioznog i vrijednog studenta je bezvrijedan ako uz njega nije talentovan, požrtvovan i nesebičan mentor. U mom slučaju, to su bila dvojica ljudi koji su mi omogućili da u profesionalnom smislu postanem ovo što danas jesam. Prva osoba je moj pokojni otac, koji mi nije samo prenio ljubav prema oftalmologiji, nego je bio i najveća podrška mojoj karijeri. Druga osoba je moj "drugi otac", prof. Nikica Gabrić, osnivač i vlasnik Klinika Svjetlost. On me je učio ne samo oftalmologiji i najnovijim vještinama, nego i filozofiji i psihologiji života. Zahvaljujući njemu, danas sam ne samo bolji oftalmolog, nego i bolji čovjek.
Liječenje bolesti oka nije uvijek lako, ali je sigurno uvijek interesantno. Živjeti i raditi u zemlji u razvoju i regionu punom izazova nije nikada bez uzbuđenja. Stoga sa ponosom mogu da kažem da sam bio dio tima koji je, sada već davne 2008. godine, prvi put izveo operaciju laserske korekcije dioptrije u Bosni i Hercegovini. Danas su refraktivne hirurške procedure, kao što su LASIK, Epi-LASIK, PRK i LASEK dio moje svakodnevne rutine i istinski nikada ne bih mogao biti srećniji zbog toga.
Osim mojih svakodnevnih stručnih i naučnih aktivnosti, uživam i u menadžerskim poslovima. Već skoro osam godina na čelu sam Klinike Svjetlost u Banjaluci. Svi moji saradnici, doktori i medicinske sestre, su vrijedni mladi ljudi na koje sam svaki dan sve više ponosan.