Swimming with contact lenses should be avoided whenever possible to help prevent bacterial contamination of your eye. Swimming with contacts can result in eye infections, irritation and potentially sight-threatening conditions such as a corneal ulcer.
It recommends that contact lenses should not be exposed to any kind of water, including tap water and water in swimming pools, oceans, lakes, hot tubs and showers. Water can be home to countless viruses and dangerous microbes. One of the most serious is the Acanthamoeba organism, which can attach to contact lenses and cause the cornea to become infected and inflamed. This condition, called Acanthameoba keratitis, is associated with wearing contact lenses while swimming and can cause permanent vision loss or require a corneal  transplant  to recover lost vision if not treated early enough.
If water gets in your eyes when swimming, you should remove, clean and disinfect your contact lenses as soon as possible to reduce your risk of eye irritation and infection. Proper contact lens care reduces further the chance of contamination. Remember to replace your contact lens case at least every three months and always follow your eye doctor's recommendations.
Rigid gas permeable (GP) contact lenses should never be worn while swimming, as they are more likely to dislodge from your eye. While soft contact lenses are more likely to remain on your eye when swimming, they are porous and can absorb chemicals and bacteria, increasing the risk of eye irritation and infection.
Also, fresh water and water in swimming pools can cause soft lenses to tighten on your eyes, causing significant discomfort. If you do decide to swim with contact lenses, daily disposable lenses are the safest option. They are meant to be worn and thrown away after a single use, eliminating the need to clean and disinfect them.
To be safe, it's a good idea to discard daily disposable lenses immediately after swimming, rinse your eyes with re-wetting drops or artificial tears approved for use with contact lenses, and then replace the lenses with a fresh pair of daily disposables.
Always contact your eye doctor immediately if you experience prolonged eye irritation or sensitivity to light after wearing your contact lenses in water.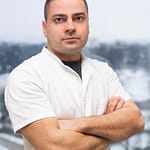 Još od ranog djetinjstva bio sam oduševljen oftalmologijom, za mene najljepšom granom medicine. Pošto sam ujedno bio i dijete profesora oftalmologije, za mene je put moje karijere bio sasvim jasan i vidljiv. Nakon završetka srednje škole i uspešnog okončanja studija na Medicinskom fakultetu Banja Luka, radio sam sve što je bilo moguće kako bih se jednog dana mogao zvati i "oftalmologom." Sreća mi se osmijehnula, te sam nedugo po završteku studija dobio specijalizaciju iz oftalmologije u Kliničkom centru Banja Luka.
Trud i rad svakog ambicioznog i vrijednog studenta je bezvrijedan ako uz njega nije talentovan, požrtvovan i nesebičan mentor. U mom slučaju, to su bila dvojica ljudi koji su mi omogućili da u profesionalnom smislu postanem ovo što danas jesam. Prva osoba je moj pokojni otac, koji mi nije samo prenio ljubav prema oftalmologiji, nego je bio i najveća podrška mojoj karijeri. Druga osoba je moj "drugi otac", prof. Nikica Gabrić, osnivač i vlasnik Klinika Svjetlost. On me je učio ne samo oftalmologiji i najnovijim vještinama, nego i filozofiji i psihologiji života. Zahvaljujući njemu, danas sam ne samo bolji oftalmolog, nego i bolji čovjek.
Liječenje bolesti oka nije uvijek lako, ali je sigurno uvijek interesantno. Živjeti i raditi u zemlji u razvoju i regionu punom izazova nije nikada bez uzbuđenja. Stoga sa ponosom mogu da kažem da sam bio dio tima koji je, sada već davne 2008. godine, prvi put izveo operaciju laserske korekcije dioptrije u Bosni i Hercegovini. Danas su refraktivne hirurške procedure, kao što su LASIK, Epi-LASIK, PRK i LASEK dio moje svakodnevne rutine i istinski nikada ne bih mogao biti srećniji zbog toga.
Osim mojih svakodnevnih stručnih i naučnih aktivnosti, uživam i u menadžerskim poslovima. Već skoro osam godina na čelu sam Klinike Svjetlost u Banjaluci. Svi moji saradnici, doktori i medicinske sestre, su vrijedni mladi ljudi na koje sam svaki dan sve više ponosan.