Nearsightedness, or myopia, is the most common refractive error of the eye, and it has become more prevalent in recent years. Though the exact cause for this increase in nearsightedness is unknown, many eye doctors feel it has something to do with eye fatigue from computer use and other extended near vision tasks, coupled with a genetic predisposition for myopia.
Myopia Symptoms and Signs
If you are nearsighted, you typically will have difficulty reading road signs and seeing distant objects clearly, but will be able to see well for close-up tasks such as reading and computer use.
Other signs and symptoms of myopia include squinting, eye strain and headaches. Feeling fatigued when driving or playing sports also can be a symptom of uncorrected nearsightedness.
If you experience these signs or symptoms while wearing your glasses or contact lenses, schedule a comprehensive eye examination with your optometrist or ophthalmologist to see if you need a stronger prescription.
What Causes Myopia?
Myopia occurs when the eyeball is too long, relative to the focusing power of the cornea and lens of the eye. This causes light rays to focus at a point in front of the retina, rather than directly on its surface.
Nearsightedness also can be caused by the cornea and/or lens being too curved for the length of the eyeball. In some cases, myopia is due to a combination of these factors.
Myopia typically begins in childhood and you may have a higher risk if your parents are nearsighted. In most cases, nearsightedness stabilizes in early adulthood but sometimes it continues to progress with age.
Myopia Treatment
Nearsightedness can be corrected with glasses, contact lenses or refractive surgery. Depending on the degree of your myopia, you may need to wear your glasses or contact lenses all the time or only when you need very clear distance vision, like when driving, seeing a chalkboard or watching a movie. If you're nearsighted, the first number ("sphere") on your eyeglasses prescription or contact lens prescription will be preceded by a minus sign (–). The higher the number, the more nearsighted you are.
Refractive surgery can reduce or even eliminate your need for glasses or contacts. The most common procedures are performed with an excimer laser. In photorefractive keratectomy the laser removes a layer of corneal tissue, which flattens the cornea and allows light rays to focus more accurately on the retina.
In LASIK, the most common refractive procedure a thin flap is created on the surface of the cornea, a laser removes some corneal tissue, and then the flap is returned to its original position.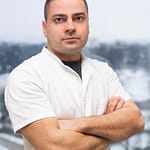 Još od ranog djetinjstva bio sam oduševljen oftalmologijom, za mene najljepšom granom medicine. Pošto sam ujedno bio i dijete profesora oftalmologije, za mene je put moje karijere bio sasvim jasan i vidljiv. Nakon završetka srednje škole i uspešnog okončanja studija na Medicinskom fakultetu Banja Luka, radio sam sve što je bilo moguće kako bih se jednog dana mogao zvati i "oftalmologom." Sreća mi se osmijehnula, te sam nedugo po završteku studija dobio specijalizaciju iz oftalmologije u Kliničkom centru Banja Luka.
Trud i rad svakog ambicioznog i vrijednog studenta je bezvrijedan ako uz njega nije talentovan, požrtvovan i nesebičan mentor. U mom slučaju, to su bila dvojica ljudi koji su mi omogućili da u profesionalnom smislu postanem ovo što danas jesam. Prva osoba je moj pokojni otac, koji mi nije samo prenio ljubav prema oftalmologiji, nego je bio i najveća podrška mojoj karijeri. Druga osoba je moj "drugi otac", prof. Nikica Gabrić, osnivač i vlasnik Klinika Svjetlost. On me je učio ne samo oftalmologiji i najnovijim vještinama, nego i filozofiji i psihologiji života. Zahvaljujući njemu, danas sam ne samo bolji oftalmolog, nego i bolji čovjek.
Liječenje bolesti oka nije uvijek lako, ali je sigurno uvijek interesantno. Živjeti i raditi u zemlji u razvoju i regionu punom izazova nije nikada bez uzbuđenja. Stoga sa ponosom mogu da kažem da sam bio dio tima koji je, sada već davne 2008. godine, prvi put izveo operaciju laserske korekcije dioptrije u Bosni i Hercegovini. Danas su refraktivne hirurške procedure, kao što su LASIK, Epi-LASIK, PRK i LASEK dio moje svakodnevne rutine i istinski nikada ne bih mogao biti srećniji zbog toga.
Osim mojih svakodnevnih stručnih i naučnih aktivnosti, uživam i u menadžerskim poslovima. Već skoro osam godina na čelu sam Klinike Svjetlost u Banjaluci. Svi moji saradnici, doktori i medicinske sestre, su vrijedni mladi ljudi na koje sam svaki dan sve više ponosan.