Myth
Reading in dim light is harmful to your eyes.
Fact
Although reading in dim light can make your eyes feel tired, it is not harmful.
Myth
It is not harmful to watch a welder or look at the sun if you squint, or look through narrowed eyelids.
Fact
Even if you squint, ultra-violet light still gets to your eyes, damaging the cornea, lens, and retina. Never watch welding without wearing the proper protection. Never look directly at an eclipse.
Myth
Using a computer, or video display terminal (VDT), is harmful to the eyes.
Fact
Although using a VDT is associated with eyestrain or fatigue, it is not harmful to the eyes.
Myth
If you use your eyes too much, you wear them out.
Fact
You can use your eyes as much as you wish – they do not wear out.
Myth
Wearing poorly-fit glasses damages your eyes.
Fact
Although a good fit is required for good vision with glasses, a poor fit does not damage your eyes.
Myth
Wearing poorly fit contacts does not harm your eyes.
Fact
Poorly fit contact lenses can be harmful to your cornea (the window at the front of your eye). Make certain your eyes are checked regularly by an eye doctor at our ophthalmology office if you wear contact lenses.
Myth
You do not need to have your eyes checked until you are in your 40s or 50s.
Fact
There are several asymptomatic, yet treatable, eye diseases (most notably glaucoma) that can begin prior to your 40s.
Myth
Safety goggles are more trouble than they're worth.
Fact
Safety goggles prevent many potentially blinding injuries every year. Keep goggles handy and use them.
Myth
It's okay to swim while wearing soft contact lenses.
Fact
Potentially blinding eye infections can result from swimming or using a hot tub while wearing contact lenses.
Myth
Children outgrow crossed eyes.
Fact
Children do not outgrow truly crossed eyes. A child whose eyes are misaligned has strabismus and can develop poor vision in one eye (a condition known as amblyopia) because the brain turns off the misaligned or "lazy" eye. The sooner crossed or misaligned eyes are treated, the less likely the child will have permanently impaired vision.
Myth
A cataract must be ripe before it can be removed.
Fact
With modern cataract surgery, a cataract does not have to ripen before it is removed. When a cataract keeps you from doing the things you like or need to do, consider having it removed.
Myth
Cataracts can be removed with lasers.
Fact
A cataract cannot be removed with a laser. The cloudy lens must be removed through a surgical incision. However, after cataract surgery, a membrane within the eye may become cloudy. This membrane can be opened with laser eye surgery.
Myth
Eyes can be transplanted.
Fact
The eye cannot be transplanted. It is connected to the brain by the optic nerve, which cannot be reconnected once it has been severed. A person can, however, undergo corneal and transplant surgery to replace the cornea, the clear part of the eye. Surgeons often use plastic intraocular lens implants (IOLs) to replace natural lenses during cataract surgery.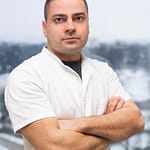 Još od ranog djetinjstva bio sam oduševljen oftalmologijom, za mene najljepšom granom medicine. Pošto sam ujedno bio i dijete profesora oftalmologije, za mene je put moje karijere bio sasvim jasan i vidljiv. Nakon završetka srednje škole i uspešnog okončanja studija na Medicinskom fakultetu Banja Luka, radio sam sve što je bilo moguće kako bih se jednog dana mogao zvati i "oftalmologom." Sreća mi se osmijehnula, te sam nedugo po završteku studija dobio specijalizaciju iz oftalmologije u Kliničkom centru Banja Luka.
Trud i rad svakog ambicioznog i vrijednog studenta je bezvrijedan ako uz njega nije talentovan, požrtvovan i nesebičan mentor. U mom slučaju, to su bila dvojica ljudi koji su mi omogućili da u profesionalnom smislu postanem ovo što danas jesam. Prva osoba je moj pokojni otac, koji mi nije samo prenio ljubav prema oftalmologiji, nego je bio i najveća podrška mojoj karijeri. Druga osoba je moj "drugi otac", prof. Nikica Gabrić, osnivač i vlasnik Klinika Svjetlost. On me je učio ne samo oftalmologiji i najnovijim vještinama, nego i filozofiji i psihologiji života. Zahvaljujući njemu, danas sam ne samo bolji oftalmolog, nego i bolji čovjek.
Liječenje bolesti oka nije uvijek lako, ali je sigurno uvijek interesantno. Živjeti i raditi u zemlji u razvoju i regionu punom izazova nije nikada bez uzbuđenja. Stoga sa ponosom mogu da kažem da sam bio dio tima koji je, sada već davne 2008. godine, prvi put izveo operaciju laserske korekcije dioptrije u Bosni i Hercegovini. Danas su refraktivne hirurške procedure, kao što su LASIK, Epi-LASIK, PRK i LASEK dio moje svakodnevne rutine i istinski nikada ne bih mogao biti srećniji zbog toga.
Osim mojih svakodnevnih stručnih i naučnih aktivnosti, uživam i u menadžerskim poslovima. Već skoro osam godina na čelu sam Klinike Svjetlost u Banjaluci. Svi moji saradnici, doktori i medicinske sestre, su vrijedni mladi ljudi na koje sam svaki dan sve više ponosan.