Scientists are developing a new test that could detect glaucoma ten years before symptoms appear – and potentially save the sight of millions of people. The technology, which detects dying nerve cells in the eye, has the potential to identify other neurological conditions at an early stage, such as Alzheimer's and Parkinson's.
Glaucoma is the leading cause of preventable blindness in the world. The test, which is being trialled for the first time uses a type of fluorescent compound that makes the back of the eye 'glow' if glaucoma is present.
Glaucoma is caused when drainage tubes in the eye become blocked and fluid starts to build up in the eyeball. This leads to high pressure, causing damage to the optic nerve (which carries signals from the eye to the brain) and irreversible blindness. However, the condition is largely symptomless and can progress for more than ten years before patients become aware of sight problems, such as a loss in peripheral vision. Furthermore, any initial vision problems can go undetected by patients, as the brain tricks them into believing they have normal sight by filling in the edges of vision with what it thinks should be there.
Most cases of glaucoma are diagnosed by opticians when routine eye examinations test pressure in the eyeball, by using a machine that shoots a puff of air at it. Patients are referred to a specialist to confirm the diagnosis. Eye drops to reduce the amount of fluid in the eye are given to prevent it from worsening. However, once glaucoma is detected by conventional tests, nerve damage may have already occurred. The new test may help diagnose the condition before any vision loss occurs. Recent research has identified changes that occur in the nerve cells at the back of eye up to ten years before vision loss occurs. These retinal ganglion cells are a crucial part of the light- sensitive layer in the eye called the retina.
For unknown reasons, these cells start to undergo a type of 'cell suicide' called apoptosis in the very early stages of glaucoma. The London team is using a dye containing a naturally occurring protein, called Annexin, that sticks to these dying cells and produces a fluorescent light. This light can be seen with conventional eye testing equipment used by opticians. If a patient has a high number of dying cells, this suggests they're at risk of glaucoma. The hope is that patients could then be given medication to stop the disease in its tracks, by preventing further nerve cells from dying, before sight loss occurs. One possibility is a neuroprotective drug, similar to those used for Alzheimer's and stroke sufferers. Furthermore, because apoptosis occurs in brain cells in the very early stages of Parkinson's and Alzheimer's, the team believe the test could one day be used to detect these conditions early. The research will involve 28 patients – two-thirds will have glaucoma or similar diseases and one-third will be healthy controls.Patients will receive one dose of the fluorescent dye via a vein in their arm. Their vision will be monitored for eight weeks.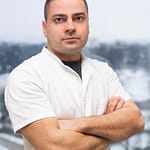 Još od ranog djetinjstva bio sam oduševljen oftalmologijom, za mene najljepšom granom medicine. Pošto sam ujedno bio i dijete profesora oftalmologije, za mene je put moje karijere bio sasvim jasan i vidljiv. Nakon završetka srednje škole i uspešnog okončanja studija na Medicinskom fakultetu Banja Luka, radio sam sve što je bilo moguće kako bih se jednog dana mogao zvati i "oftalmologom." Sreća mi se osmijehnula, te sam nedugo po završteku studija dobio specijalizaciju iz oftalmologije u Kliničkom centru Banja Luka.
Trud i rad svakog ambicioznog i vrijednog studenta je bezvrijedan ako uz njega nije talentovan, požrtvovan i nesebičan mentor. U mom slučaju, to su bila dvojica ljudi koji su mi omogućili da u profesionalnom smislu postanem ovo što danas jesam. Prva osoba je moj pokojni otac, koji mi nije samo prenio ljubav prema oftalmologiji, nego je bio i najveća podrška mojoj karijeri. Druga osoba je moj "drugi otac", prof. Nikica Gabrić, osnivač i vlasnik Klinika Svjetlost. On me je učio ne samo oftalmologiji i najnovijim vještinama, nego i filozofiji i psihologiji života. Zahvaljujući njemu, danas sam ne samo bolji oftalmolog, nego i bolji čovjek.
Liječenje bolesti oka nije uvijek lako, ali je sigurno uvijek interesantno. Živjeti i raditi u zemlji u razvoju i regionu punom izazova nije nikada bez uzbuđenja. Stoga sa ponosom mogu da kažem da sam bio dio tima koji je, sada već davne 2008. godine, prvi put izveo operaciju laserske korekcije dioptrije u Bosni i Hercegovini. Danas su refraktivne hirurške procedure, kao što su LASIK, Epi-LASIK, PRK i LASEK dio moje svakodnevne rutine i istinski nikada ne bih mogao biti srećniji zbog toga.
Osim mojih svakodnevnih stručnih i naučnih aktivnosti, uživam i u menadžerskim poslovima. Već skoro osam godina na čelu sam Klinike Svjetlost u Banjaluci. Svi moji saradnici, doktori i medicinske sestre, su vrijedni mladi ljudi na koje sam svaki dan sve više ponosan.