Macular Degeneration (MD) is a term used to describe many conditions which affect central vision. Central vision is processed by the macula, which is located in the center of the retina. MD occurs when the cells of the macula break down and start to function less effectively, usually as a result of age. This causes loss of vision in the center of the visual field.
While peripheral vision remains, loss of central vision can make it difficult or impossible to do things like read or recognize faces.
Possible ways to reduce your risk of Macular Degeneration:
Don't Smoke If someone is a smoker, stopping can only help reduce the risk of MD. Many studies suggest that smokers are more likely to suffer from MD and other eye-related problems.
Stay Healthy Maintaining a healthy diet and lifestyle is important for overall health as well as eye health.
Keep a healthy diet
Exercise regularly
Maintain a healthy weight
Body relies on many types of tissues and organs functioning properly, including the retina, to allow for good vision. Staying healthy can help every part of the body, including the macula.
Take Vitamins Ask the doctor if nutritional supplements may be a good idea for eye health. It can be difficult to obtain all the nutrients needed from diet alone, and there are vitamins available that are specifically designed to help maintain healthy eyes.
Wear SunglassesWhile there isn't necessarily a link between UV exposure and MD, wearing sunglasses helps keep the eyes healthy and can prevent other eye problems. Maintaining healthy eyes is a good starting point for a healthier retina.
Have Regular Eye ExamsThe best thing to do to reduce the risk of the vision loss associated with MD is to visit ophthalmologist regularly for eye exams. Regular exams can help the doctor detect MD and monitor it so it can receive proper treatment, if appropriate.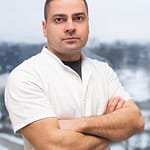 Bojan Kozomara (Banjaluka, 30. decembra 1978) je doktor medicine, specijalista oftamologije i direktor specijalne oftalmološke bolnice Svjetlost Banja Luka.
U svom rodnom gradu završio je Gimnaziju i Medicinski fakultet, a 2009. godine specijalizovao se za oblast oftamologije. 2016. godine postao je magistar medicinskih nauka iz oblasti oftamologije, a svoju profesiju usavršio je na Klinici za očne bolesti, VMA Beograd, Srbija, te na Klinici Oculistica Universita "Careggi", u Firenci, Italija. Nakon završene specijalizacije u Italiji, odlučio se vratiti u rodnu Banjaluku i tu pokrenuti privatnu kliniku, koja će za vrlo kratko vrijeme postati popularna i prepoznatljiva u regionu, ali i svijetu.