It's not every day that one newly discovers parts of the human. New structural anatomy is rarely uncovered these days. What makes this finding extra interesting is the proximity of these new structures to a stem cell region where we already perform limbal stem cell transplants to replenish the corneal epithelium when it is lost to disease or injury.
Using an advanced spectroscopic technique, was able to describe two novel structures in the cornea of the human eye: the anterior limbal cribriform layer and presumed anchoring fibers. These structures have never been described by any means before. While the function of the collagen/elastin-containing anterior limbal cribriform layer remains unknown, it may play a supportive function as it is composed of structural proteins, passes vasculature and underlies a stem cell region of the eye.
Hopefully we will be able to better understand the function of these newly discovered structures by monitoring their appearances in various disease states of the ocular surface.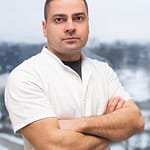 Bojan Kozomara (Banjaluka, 30. decembra 1978) je doktor medicine, specijalista oftamologije i direktor specijalne oftalmološke bolnice Svjetlost Banja Luka.
U svom rodnom gradu završio je Gimnaziju i Medicinski fakultet, a 2009. godine specijalizovao se za oblast oftamologije. 2016. godine postao je magistar medicinskih nauka iz oblasti oftamologije, a svoju profesiju usavršio je na Klinici za očne bolesti, VMA Beograd, Srbija, te na Klinici Oculistica Universita "Careggi", u Firenci, Italija. Nakon završene specijalizacije u Italiji, odlučio se vratiti u rodnu Banjaluku i tu pokrenuti privatnu kliniku, koja će za vrlo kratko vrijeme postati popularna i prepoznatljiva u regionu, ali i svijetu.