The following myths about our eyes cause more harm and good. Now's the time to see the truth with crystal clear vision.
Myth 1: We should wash our eyes every day
Many people believe that eyes should be cleaned regularly, so they splash water in the eyes or rinse them with rose water. However, there is no need to do any of this. In fact, splashing water in the eyes may increase the risk of infections as the tap water may not be sterile.
Myth 2: Looking directly into sunlight strengthens the eyes
It is a known fact that looking at a solar eclipse can cause photo toxic damage to the retina, causing what is known as solar retinopathy. Your eyes can suffer similar damage if you stare at the sun directly for longer periods of time.
Myth 3: Wearing glasses constantly will fix or reduce your power
Glasses are prescribed for clarity of vision. Whether you wear your glasses full time or for a few hours in the day, if the number has to increase it will increase.
Myth 4: A child's squint doesn't need immediate treatment
Parents whose children have a squint feel that it is a cosmetic problem and needs to be tackled only at a later age. However, any child who develops a squint is at a risk of losing vision in one eye and developing a lazy eye. Lazy eye or amblyopia can be treated only until a child is eight years old or so. Therefore, a child with a squint must be examined and treated by the eye doctor as it's not only a cosmetic problem.
Myth 5: Eye exercises will reduce the spectacle number
The eye/spectacle number is the result of an increase in the axial length of the eyeball. No exercise can elongate or shorten the eyeball.
Myth 6: A diabetic patient's eyes will be fine if the blood sugars are under control
The risk of damage to the eyes due to diabetes is not only related to the current levels of one's blood sugar. It is also associated with the duration of one's diabetic illness. Thus, even if your sugars are normal, you could be suffering from diabetic retinopathy which if not detected and treated in time can lead to irreversible blindness.
Myth 7: An eye transplant means transplanting the entire organ
When we talk of transplant refer only to the cornea of the donor's eye. The whole eye is never transplanted. So if there is a condition affecting the retina or the optic nerve, an eye transplant cannot be done.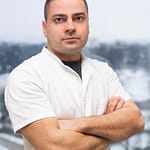 Još od ranog djetinjstva bio sam oduševljen oftalmologijom, za mene najljepšom granom medicine. Pošto sam ujedno bio i dijete profesora oftalmologije, za mene je put moje karijere bio sasvim jasan i vidljiv. Nakon završetka srednje škole i uspešnog okončanja studija na Medicinskom fakultetu Banja Luka, radio sam sve što je bilo moguće kako bih se jednog dana mogao zvati i "oftalmologom." Sreća mi se osmijehnula, te sam nedugo po završteku studija dobio specijalizaciju iz oftalmologije u Kliničkom centru Banja Luka.
Trud i rad svakog ambicioznog i vrijednog studenta je bezvrijedan ako uz njega nije talentovan, požrtvovan i nesebičan mentor. U mom slučaju, to su bila dvojica ljudi koji su mi omogućili da u profesionalnom smislu postanem ovo što danas jesam. Prva osoba je moj pokojni otac, koji mi nije samo prenio ljubav prema oftalmologiji, nego je bio i najveća podrška mojoj karijeri. Druga osoba je moj "drugi otac", prof. Nikica Gabrić, osnivač i vlasnik Klinika Svjetlost. On me je učio ne samo oftalmologiji i najnovijim vještinama, nego i filozofiji i psihologiji života. Zahvaljujući njemu, danas sam ne samo bolji oftalmolog, nego i bolji čovjek.
Liječenje bolesti oka nije uvijek lako, ali je sigurno uvijek interesantno. Živjeti i raditi u zemlji u razvoju i regionu punom izazova nije nikada bez uzbuđenja. Stoga sa ponosom mogu da kažem da sam bio dio tima koji je, sada već davne 2008. godine, prvi put izveo operaciju laserske korekcije dioptrije u Bosni i Hercegovini. Danas su refraktivne hirurške procedure, kao što su LASIK, Epi-LASIK, PRK i LASEK dio moje svakodnevne rutine i istinski nikada ne bih mogao biti srećniji zbog toga.
Osim mojih svakodnevnih stručnih i naučnih aktivnosti, uživam i u menadžerskim poslovima. Već skoro osam godina na čelu sam Klinike Svjetlost u Banjaluci. Svi moji saradnici, doktori i medicinske sestre, su vrijedni mladi ljudi na koje sam svaki dan sve više ponosan.