Researchers developed software that detects eye diseases, such as diabetic macular edema, using a smartphone. The system is aimed at general physicians who could detect the condition and refer the patient to a specialist.
The software uses the camera of the phone to detect any abnormality in the thickness of the retina. It was developed by researchers at the Medical and Surgical Center for Retina in collaboration with biomedical engineers from the ITESM.
The idea is to detect and prevent diseases in general practice; not replacing the specialist, just wishing to know which patients have a disease and making an early detection.
The technology is designed for general physicians, who support the health system and, even without in-depth knowledge of ophthalmology, can  detect certain abnormalities and send the patient to the specialist using this tool.
Using the software will reduce costs and streamline the health system. With just having the app on the cell phone and focusing the camera on the eye, immediate results will be obtained. The app also has utility in rural communities, where expertise areas, such as ophthalmology, have not arrived yet because equipment to detect these diseases is expensive and, so far, only the visiting specialist can do this kind of diagnosis.
It will also help those that where blind before they came to the eye doctor, because it will unable the physician to go a step back, and see what happened. Software development has been satisfactory and it is expected to be marketed and incorporated into the basic health system soon.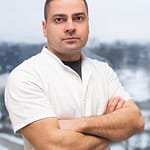 Bojan Kozomara (Banjaluka, 30. decembra 1978) je doktor medicine, specijalista oftamologije i direktor specijalne oftalmološke bolnice Svjetlost Banja Luka.
U svom rodnom gradu završio je Gimnaziju i Medicinski fakultet, a 2009. godine specijalizovao se za oblast oftamologije. 2016. godine postao je magistar medicinskih nauka iz oblasti oftamologije, a svoju profesiju usavršio je na Klinici za očne bolesti, VMA Beograd, Srbija, te na Klinici Oculistica Universita "Careggi", u Firenci, Italija. Nakon završene specijalizacije u Italiji, odlučio se vratiti u rodnu Banjaluku i tu pokrenuti privatnu kliniku, koja će za vrlo kratko vrijeme postati popularna i prepoznatljiva u regionu, ali i svijetu.