Presbyopia is a type of farsightedness that occurs when lens elasticity deteriorates as a result of the natural aging process. This condition typically develops in people around the age of 40. Refractive Lens Exchange, also called RLE, can restore near vision in qualified patients with presbyopia. This technique can also serve as a laser vision correction alternative for patients who are trying to reduce their reliance on corrective lenses to see clearly at a range of distances.
RLE has become more popular among presbyopia patients and others with common visual refractive errors in the last few years. The reason for the interest appears to be the myriad benefits. RLE can significantly improve "full-focus" vision — near, intermediate, and distance — often without the need for glasses or contacts. Only an experienced ophthalmologist performing a physical examination can determine if a patient is a qualified candidate for RLE. During the procedure, the eye surgeon will replace, or "exchange," the existing lens with an artificial intraocular lens, or IOL. Ideal patients for RLE typically include those who are:
Over the age of 40
Experiencing Presbyopia
Do not have signs of cataract development or have incipient cataracts
Looking to improve near- and/or far-distance vision
Patients who are not qualified for RLE may be candidates for another vision correction treatment.
For patients diagnosed with cataracts, RLE will typically be performed if the fundus can be examined properly, of if the patients states that he/she doesn't have any previous eye disorders.
Refractive Lens Exchange: The Procedure
Lens replacement surgery usually takes about 10 minutes and is performed on an outpatient basis. It is advisable to do both eyes as a same day surgery. Numbing anesthetic drops are used during RLE, so typically there is no discomfort, and most people report immediate vision improvement after the procedure.
Initial recovery from refractive lens exchange — when you can resume normal everyday activities — usually takes about a week. Final outcomes of refractive lens exchange can take up to several weeks, and one may notice vision disturbances such as blurry vision, halos and glare, or a "scratchy" sensation as your eyes heal.
The patient should be able to return to work and resume driving within a week of surgery, dependent on the eye surgeon's instructions.
Normally, there's no feel an IOL in the eye, in the same way that there's no feel for a dental filling for a cavity.
Also, since the lens is situated inside the eye and not on the surface like a contact lens, it is not visible to the naked eye. The artificial intraocular lens is a permanent replacement for natural lens and is designed to last the rest of the life. And, because IOLs are not affected by age-related changes, there is minimal risk of regression (loss of corrective effect or deterioration of vision) over time.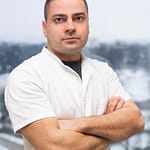 Još od ranog djetinjstva bio sam oduševljen oftalmologijom, za mene najljepšom granom medicine. Pošto sam ujedno bio i dijete profesora oftalmologije, za mene je put moje karijere bio sasvim jasan i vidljiv. Nakon završetka srednje škole i uspešnog okončanja studija na Medicinskom fakultetu Banja Luka, radio sam sve što je bilo moguće kako bih se jednog dana mogao zvati i "oftalmologom." Sreća mi se osmijehnula, te sam nedugo po završteku studija dobio specijalizaciju iz oftalmologije u Kliničkom centru Banja Luka.
Trud i rad svakog ambicioznog i vrijednog studenta je bezvrijedan ako uz njega nije talentovan, požrtvovan i nesebičan mentor. U mom slučaju, to su bila dvojica ljudi koji su mi omogućili da u profesionalnom smislu postanem ovo što danas jesam. Prva osoba je moj pokojni otac, koji mi nije samo prenio ljubav prema oftalmologiji, nego je bio i najveća podrška mojoj karijeri. Druga osoba je moj "drugi otac", prof. Nikica Gabrić, osnivač i vlasnik Klinika Svjetlost. On me je učio ne samo oftalmologiji i najnovijim vještinama, nego i filozofiji i psihologiji života. Zahvaljujući njemu, danas sam ne samo bolji oftalmolog, nego i bolji čovjek.
Liječenje bolesti oka nije uvijek lako, ali je sigurno uvijek interesantno. Živjeti i raditi u zemlji u razvoju i regionu punom izazova nije nikada bez uzbuđenja. Stoga sa ponosom mogu da kažem da sam bio dio tima koji je, sada već davne 2008. godine, prvi put izveo operaciju laserske korekcije dioptrije u Bosni i Hercegovini. Danas su refraktivne hirurške procedure, kao što su LASIK, Epi-LASIK, PRK i LASEK dio moje svakodnevne rutine i istinski nikada ne bih mogao biti srećniji zbog toga.
Osim mojih svakodnevnih stručnih i naučnih aktivnosti, uživam i u menadžerskim poslovima. Već skoro osam godina na čelu sam Klinike Svjetlost u Banjaluci. Svi moji saradnici, doktori i medicinske sestre, su vrijedni mladi ljudi na koje sam svaki dan sve više ponosan.