The most recent research shows that human brain could actually be able to regulate progression of glaucoma and other neurodegenerative diseases. These results have implications in the pursuit of neuro protective therapies.
Glaucoma is a neurodegenerative disease where patients lose seemingly random patches of vision in each eye. Scientists have long thought that glaucoma's progression is independent of – or uncontrolled by – the brain. However, the recent study found that the progression of glaucoma is not random and that the brain may be involved after all. Moreover, it has been stated that patients with moderate to severe glaucoma maintained vision parts of the visual field in the better eye which were lost in the other eye – like two puzzle pieces fitting together (a "jigsaw effect").
This pattern of vision loss is in stark contrast to loss from a brain tumor or stroke, which causes both eyes to develop blind spots at the same location. This suggests some communication between the eyes must be going on and that can only happen in the brain. Scientists also found that the "jigsaw effect" begins at the earliest stages of glaucoma and discovered clues as to which part of the brain is responsible for vision optimization in the face of glaucoma's slow destruction of sight.
The work has further illustrated that the brain will not let the eye lose control of the same function on both sides of the brain if that can be avoided. The progression of Alzheimer's and Parkinson's diseases, which have neuro-degenerative biology similar to glaucoma, may also be actively mediated by the brain. It seems likely that the same kind of protective mechanism will be at work with other neuro-degenerative disorders. The researchers say that if the brain regulates neuro-degeneration – that is, if the brain controls how it loses control – then future studies should be able to look for opportunities to slow or stop the progression of these diseases.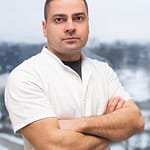 Bojan Kozomara (Banjaluka, 30. decembra 1978) je doktor medicine, specijalista oftamologije i direktor specijalne oftalmološke bolnice Svjetlost Banja Luka.
U svom rodnom gradu završio je Gimnaziju i Medicinski fakultet, a 2009. godine specijalizovao se za oblast oftamologije. 2016. godine postao je magistar medicinskih nauka iz oblasti oftamologije, a svoju profesiju usavršio je na Klinici za očne bolesti, VMA Beograd, Srbija, te na Klinici Oculistica Universita "Careggi", u Firenci, Italija. Nakon završene specijalizacije u Italiji, odlučio se vratiti u rodnu Banjaluku i tu pokrenuti privatnu kliniku, koja će za vrlo kratko vrijeme postati popularna i prepoznatljiva u regionu, ali i svijetu.