The digital infotainment age not only removes people from personal, face-to-face conversation, but also aggravates the dry eye problem. The No.1  problem of people always browsing computers, laptops, tablets and smartphones is that they don't blink as often as they should, which leads to the dry eye syndrome.
The tear film is a very thin layer of tears on the surface of the eye that keeps the eye healthy. If the tear film breaks up in ten seconds, you have to blink involuntarily in 10 seconds or less because when you blink, the tear film is redistributed. It's like recoating the surface of your eye with a film of tears. Many call center workers, office secretaries and children playing games on iPads develop dry eye problems because they don't blink as often as they should.
For a long time, even eye doctors did not realize that most of the complaints of their patients were due to dry eye. It was previously undiagnosed and only in the last five or ten years problem dry eye get a lot of attention. When the cells inside the gland that produces tears start to atrophy and die, the volume of tears diminishes. So your eyes are prone to dryness.
Treating dry eyes. To treat the dryness, it recommends lubricating the eyes every two hours with a tear preparation. Prescribed lubricant eye drops, although higher priced than over-the-counter eye drops, contain certain minerals and compounds that are part of the tear composition and provide the needed nutrients to combat dry eye. The usual eye problems associated with aging start to appear above 50.Aside from dry eye, the common eye problems that afflict senior citizens are diabetic retinopathy, glaucoma and cataract.
As we grow older, all the endocrine problems already present in the body start to appear. Diabetes of the eye becomes more frequent after five years of elevated sugar levels. Endocrinologists refer patients to us if the patient is diabetic five years or more. As for glaucoma, it can be genetic, familial or sporadic. Most cases appear after the age of 50 for those with no family history, so that's something to monitor. There are types of glaucoma that can be managed with eye drops, there are types that require surgery. Cataract, eventually appears in everyone. But some don't need surgery. If the cataract is deemed to affect the vision, then surgery is required.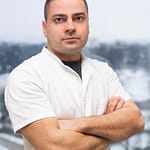 Još od ranog djetinjstva bio sam oduševljen oftalmologijom, za mene najljepšom granom medicine. Pošto sam ujedno bio i dijete profesora oftalmologije, za mene je put moje karijere bio sasvim jasan i vidljiv. Nakon završetka srednje škole i uspešnog okončanja studija na Medicinskom fakultetu Banja Luka, radio sam sve što je bilo moguće kako bih se jednog dana mogao zvati i "oftalmologom." Sreća mi se osmijehnula, te sam nedugo po završteku studija dobio specijalizaciju iz oftalmologije u Kliničkom centru Banja Luka.
Trud i rad svakog ambicioznog i vrijednog studenta je bezvrijedan ako uz njega nije talentovan, požrtvovan i nesebičan mentor. U mom slučaju, to su bila dvojica ljudi koji su mi omogućili da u profesionalnom smislu postanem ovo što danas jesam. Prva osoba je moj pokojni otac, koji mi nije samo prenio ljubav prema oftalmologiji, nego je bio i najveća podrška mojoj karijeri. Druga osoba je moj "drugi otac", prof. Nikica Gabrić, osnivač i vlasnik Klinika Svjetlost. On me je učio ne samo oftalmologiji i najnovijim vještinama, nego i filozofiji i psihologiji života. Zahvaljujući njemu, danas sam ne samo bolji oftalmolog, nego i bolji čovjek.
Liječenje bolesti oka nije uvijek lako, ali je sigurno uvijek interesantno. Živjeti i raditi u zemlji u razvoju i regionu punom izazova nije nikada bez uzbuđenja. Stoga sa ponosom mogu da kažem da sam bio dio tima koji je, sada već davne 2008. godine, prvi put izveo operaciju laserske korekcije dioptrije u Bosni i Hercegovini. Danas su refraktivne hirurške procedure, kao što su LASIK, Epi-LASIK, PRK i LASEK dio moje svakodnevne rutine i istinski nikada ne bih mogao biti srećniji zbog toga.
Osim mojih svakodnevnih stručnih i naučnih aktivnosti, uživam i u menadžerskim poslovima. Već skoro osam godina na čelu sam Klinike Svjetlost u Banjaluci. Svi moji saradnici, doktori i medicinske sestre, su vrijedni mladi ljudi na koje sam svaki dan sve više ponosan.