More physicians than ever are starting to move their practices away from reactive medicine and toward preventative medicine. Although some eye conditions are caused by genetic predisposition, uncontrollable environmental factors and age, others can be successfully prevented or slowed down. Diet, exercise, and balance in life are key to living your best life, inside and out.
Here are some recommended tips for keeping your eyes healthy:
Eat right – Our eyes need specific nutrients like vitamins, antioxidants, and minerals to perform optimally. Although certain foods are more eye-friendly than others, you can improve your eyesight and your overall health by remembering to eat a healthy mix. Aim to eat colorful veggies instead of iceberg lettuce, incorporate berries into your intake of fruit, and eat more fatty fish like salmon and sardines. Processed foods are not only devoid of these essential nutrients, they can also increase the risk of health conditions like diabetes, which can affect eyesight over time. Stick with whole, fresh or frozen foods and keep a couple of simple recipes on hand to reduce the number of times you reach for a package instead of preparing something from scratch.
Exercise your body and your eyes – Regular exercise improves blood flow, which is vital for visual health. Humans need strength training and cardio to keep our metabolisms running high. In addition to traditional exercise, you can also try some eye exercises to combat fatigue. Use a warm compress to add heat and moisture to your eyes. Focus on a small object at arm's length and bring it in toward your nose to improve your ability to change focus, particularly if you work in front of computer.
Don't forget rest – Stress, strain, and too much activity can hurt your vision and eye health over time. Try to take regular breaks from activities that require intense focus. Get enough sleep every night, and don't forget to remove your contacts. Anytime your eyes hurt or you feel stressed, take a 3-5 minute break. Close your eyes, set a timer, and relax for a moment.
Wear your glasses – Failing to wear your glasses when you need them can strain your eyes unnecessarily. Wear glasses of the appropriate strength to help you see clearly and follow your physician's recommendation for use. Sunglasses are also an important part of vision and eye health. Wear them outside to protect your eyes from UV rays.
Hydrate – Our eyes are mostly liquid, and dehydration can wreak havoc on our vision and the way our eyes feel. If you've ever had red, itchy, or scratchy eyes from dehydration, you understand how important water is to our vision. Try to drink your recommended daily intake in water, not caffeinated beverages, fruit juice, or soda.
Trying to live a balanced life is one of the best ways you can protect your vision and your eye health. These tips are great for preventing eyesight from getting worse and improving certain eye conditions and overall health.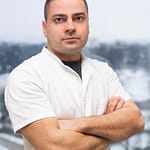 Još od ranog djetinjstva bio sam oduševljen oftalmologijom, za mene najljepšom granom medicine. Pošto sam ujedno bio i dijete profesora oftalmologije, za mene je put moje karijere bio sasvim jasan i vidljiv. Nakon završetka srednje škole i uspešnog okončanja studija na Medicinskom fakultetu Banja Luka, radio sam sve što je bilo moguće kako bih se jednog dana mogao zvati i "oftalmologom." Sreća mi se osmijehnula, te sam nedugo po završteku studija dobio specijalizaciju iz oftalmologije u Kliničkom centru Banja Luka.
Trud i rad svakog ambicioznog i vrijednog studenta je bezvrijedan ako uz njega nije talentovan, požrtvovan i nesebičan mentor. U mom slučaju, to su bila dvojica ljudi koji su mi omogućili da u profesionalnom smislu postanem ovo što danas jesam. Prva osoba je moj pokojni otac, koji mi nije samo prenio ljubav prema oftalmologiji, nego je bio i najveća podrška mojoj karijeri. Druga osoba je moj "drugi otac", prof. Nikica Gabrić, osnivač i vlasnik Klinika Svjetlost. On me je učio ne samo oftalmologiji i najnovijim vještinama, nego i filozofiji i psihologiji života. Zahvaljujući njemu, danas sam ne samo bolji oftalmolog, nego i bolji čovjek.
Liječenje bolesti oka nije uvijek lako, ali je sigurno uvijek interesantno. Živjeti i raditi u zemlji u razvoju i regionu punom izazova nije nikada bez uzbuđenja. Stoga sa ponosom mogu da kažem da sam bio dio tima koji je, sada već davne 2008. godine, prvi put izveo operaciju laserske korekcije dioptrije u Bosni i Hercegovini. Danas su refraktivne hirurške procedure, kao što su LASIK, Epi-LASIK, PRK i LASEK dio moje svakodnevne rutine i istinski nikada ne bih mogao biti srećniji zbog toga.
Osim mojih svakodnevnih stručnih i naučnih aktivnosti, uživam i u menadžerskim poslovima. Već skoro osam godina na čelu sam Klinike Svjetlost u Banjaluci. Svi moji saradnici, doktori i medicinske sestre, su vrijedni mladi ljudi na koje sam svaki dan sve više ponosan.