Women often put their own healthcare and well-being on the back burner. Often, eye care is one of the first things that they forgot. In fact, a recent survey revealed that one in four women had not gotten their eyes checked in the past two years. While it's true that there's always someone who needs your time and attention, taking an hour out of your day once a year could save your long-term vision.
Why Should Women Be More Concerned About Vision Loss?
Surprisingly, twice as many women suffer from blindness than men. In addition to blindness, women are much more likely to suffer from eye health issues overall. Diseases such as cataracts, dry eye disease, glaucoma, and macular degeneration have a much higher occurrence in women. Though there are no cures for these diseases, there are ways to stop them before they get started. Preventative care can help slow progression, as well as help sufferers maintain normal day-to-day activities.
How Can Women Protect Their Eyes?
Though the statistics for women's eye health are alarming, there's hopeful news. Proper health and eye care, including yearly eye exams, can help prevent 75% of visual impairment problems. Like many issues with women's health, early detection is the key to prevention. Generally, eye diseases don't show obvious symptoms in the early stages of development. It's not until they're well advanced that symptoms become noticeable, making treatment and care difficult.
Early diagnosis of these diseases is the best way to know if an eye problem is creeping up on you, making effective treatment much more accessible. Caring for your eyes doesn't have to be one more iron on the fire; it can be as easy as following these three simple steps:
Wear a hat and sunglasses when outdoors. UV rays from the sun can increase the risk of macular degeneration, as well as cataracts.
Avoid smoking and second-hand smoke. This can increase your overall health as well as your visual health.
Schedule an appointment for a dilated eye exam. A short time with an optometrist once a year can mean the detection of eye care problems and other health care diseases, like diabetes.
Of course there are other things to keep in mind when you're considering your eye health. For instance, eye sight often changes during pregnancy, so an eye exam during expectancy can help make sure your vision hasn't altered too drastically.
As with all health, genetics can play a huge role in the evolution of our eyes as we age. Know your family medical history and make sure your optometrist does, too. He or she can determine risk factors not only from your family's eye health, but from other inherited diseases.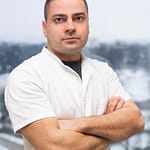 Još od ranog djetinjstva bio sam oduševljen oftalmologijom, za mene najljepšom granom medicine. Pošto sam ujedno bio i dijete profesora oftalmologije, za mene je put moje karijere bio sasvim jasan i vidljiv. Nakon završetka srednje škole i uspešnog okončanja studija na Medicinskom fakultetu Banja Luka, radio sam sve što je bilo moguće kako bih se jednog dana mogao zvati i "oftalmologom." Sreća mi se osmijehnula, te sam nedugo po završteku studija dobio specijalizaciju iz oftalmologije u Kliničkom centru Banja Luka.
Trud i rad svakog ambicioznog i vrijednog studenta je bezvrijedan ako uz njega nije talentovan, požrtvovan i nesebičan mentor. U mom slučaju, to su bila dvojica ljudi koji su mi omogućili da u profesionalnom smislu postanem ovo što danas jesam. Prva osoba je moj pokojni otac, koji mi nije samo prenio ljubav prema oftalmologiji, nego je bio i najveća podrška mojoj karijeri. Druga osoba je moj "drugi otac", prof. Nikica Gabrić, osnivač i vlasnik Klinika Svjetlost. On me je učio ne samo oftalmologiji i najnovijim vještinama, nego i filozofiji i psihologiji života. Zahvaljujući njemu, danas sam ne samo bolji oftalmolog, nego i bolji čovjek.
Liječenje bolesti oka nije uvijek lako, ali je sigurno uvijek interesantno. Živjeti i raditi u zemlji u razvoju i regionu punom izazova nije nikada bez uzbuđenja. Stoga sa ponosom mogu da kažem da sam bio dio tima koji je, sada već davne 2008. godine, prvi put izveo operaciju laserske korekcije dioptrije u Bosni i Hercegovini. Danas su refraktivne hirurške procedure, kao što su LASIK, Epi-LASIK, PRK i LASEK dio moje svakodnevne rutine i istinski nikada ne bih mogao biti srećniji zbog toga.
Osim mojih svakodnevnih stručnih i naučnih aktivnosti, uživam i u menadžerskim poslovima. Već skoro osam godina na čelu sam Klinike Svjetlost u Banjaluci. Svi moji saradnici, doktori i medicinske sestre, su vrijedni mladi ljudi na koje sam svaki dan sve više ponosan.