Amblyopia, commonly known as "lazy-eye," has been classically treated by patching the strong eye to force the weaker eye to be used. However, the concept of binocular dysfunction, in which the brain suppresses the image from the weaker eye in favor of the stronger eye, has motivated new approaches to amblyopia treatment. In a new report, researchers describe how the use of dichoptic therapy, which presents different images to each eye separately, combined with popular children's movies, has produced improved visual acuity in young children.
Dichoptic techniques combined with perceptual-learning tasks or simple games have been shown to improve visual acuity significantly in amblyopia. However, children find these tasks intensive and repetitive, and up to 40% of unsupervised patients are noncompliant. A multicenter team of researchers investigated a potentially more engaging method by using popular animated movies with complementary dichoptic stimulation to hold children's interest.
In the study eight amblyopic children 4-10 years of age watched three dichoptic movies per week for two weeks. Each eye was presented with an image with irregularly shaped blobs that masked different portions of the film. The blobs seen by one eye were the inverse of the blobs seen by the other, so that the entire screen could only be perceived with binocular vision. In order to overcome suppression and allow binocular vision to form a complete picture, the image presented to the stronger eye was reduced in contrast.
Visual acuity improved in the eye with amblyopia in this study. Children achieved 1-4 lines of improvement in visual acuity with just six sessions (nine hours) of dichoptic (both eyes looking at target at same time) movie viewing over two weeks. Patching, by comparison, requires 120 hours of treatment to achieve 1 line of improvement in amblyopic children who have already been treated with spectacles for 12-16 weeks.
While the maximum improvement or the persistence of the improvement remains to be determined. If these preliminary results are confirmed in a controlled clinical trial, passive viewing of dichoptic feature films could be useful as a primary, supplemental, or maintenance treatment for amblyopia.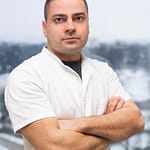 Bojan Kozomara (Banjaluka, 30. decembra 1978) je doktor medicine, specijalista oftamologije i direktor specijalne oftalmološke bolnice Svjetlost Banja Luka.
U svom rodnom gradu završio je Gimnaziju i Medicinski fakultet, a 2009. godine specijalizovao se za oblast oftamologije. 2016. godine postao je magistar medicinskih nauka iz oblasti oftamologije, a svoju profesiju usavršio je na Klinici za očne bolesti, VMA Beograd, Srbija, te na Klinici Oculistica Universita "Careggi", u Firenci, Italija. Nakon završene specijalizacije u Italiji, odlučio se vratiti u rodnu Banjaluku i tu pokrenuti privatnu kliniku, koja će za vrlo kratko vrijeme postati popularna i prepoznatljiva u regionu, ali i svijetu.