Amblyopia, commonly known as "lazy-eye," has been classically treated by patching the strong eye to force the weaker eye to be used. However, the concept of binocular dysfunction, in which the brain suppresses the image from the weaker eye in favor of the stronger eye, has motivated new approaches to amblyopia treatment. In a new report, researchers describe how the use of dichoptic therapy, which presents different images to each eye separately, combined with popular children's movies, has produced improved visual acuity in young children.
Dichoptic techniques combined with perceptual-learning tasks or simple games have been shown to improve visual acuity significantly in amblyopia. However, children find these tasks intensive and repetitive, and up to 40% of unsupervised patients are noncompliant. A multicenter team of researchers investigated a potentially more engaging method by using popular animated movies with complementary dichoptic stimulation to hold children's interest.
In the study eight amblyopic children 4-10 years of age watched three dichoptic movies per week for two weeks. Each eye was presented with an image with irregularly shaped blobs that masked different portions of the film. The blobs seen by one eye were the inverse of the blobs seen by the other, so that the entire screen could only be perceived with binocular vision. In order to overcome suppression and allow binocular vision to form a complete picture, the image presented to the stronger eye was reduced in contrast.
Visual acuity improved in the eye with amblyopia in this study. Children achieved 1-4 lines of improvement in visual acuity with just six sessions (nine hours) of dichoptic (both eyes looking at target at same time) movie viewing over two weeks. Patching, by comparison, requires 120 hours of treatment to achieve 1 line of improvement in amblyopic children who have already been treated with spectacles for 12-16 weeks.
While the maximum improvement or the persistence of the improvement remains to be determined. If these preliminary results are confirmed in a controlled clinical trial, passive viewing of dichoptic feature films could be useful as a primary, supplemental, or maintenance treatment for amblyopia.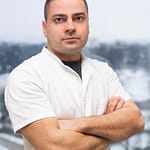 Još od ranog djetinjstva bio sam oduševljen oftalmologijom, za mene najljepšom granom medicine. Pošto sam ujedno bio i dijete profesora oftalmologije, za mene je put moje karijere bio sasvim jasan i vidljiv. Nakon završetka srednje škole i uspešnog okončanja studija na Medicinskom fakultetu Banja Luka, radio sam sve što je bilo moguće kako bih se jednog dana mogao zvati i "oftalmologom." Sreća mi se osmijehnula, te sam nedugo po završteku studija dobio specijalizaciju iz oftalmologije u Kliničkom centru Banja Luka.
Trud i rad svakog ambicioznog i vrijednog studenta je bezvrijedan ako uz njega nije talentovan, požrtvovan i nesebičan mentor. U mom slučaju, to su bila dvojica ljudi koji su mi omogućili da u profesionalnom smislu postanem ovo što danas jesam. Prva osoba je moj pokojni otac, koji mi nije samo prenio ljubav prema oftalmologiji, nego je bio i najveća podrška mojoj karijeri. Druga osoba je moj "drugi otac", prof. Nikica Gabrić, osnivač i vlasnik Klinika Svjetlost. On me je učio ne samo oftalmologiji i najnovijim vještinama, nego i filozofiji i psihologiji života. Zahvaljujući njemu, danas sam ne samo bolji oftalmolog, nego i bolji čovjek.
Liječenje bolesti oka nije uvijek lako, ali je sigurno uvijek interesantno. Živjeti i raditi u zemlji u razvoju i regionu punom izazova nije nikada bez uzbuđenja. Stoga sa ponosom mogu da kažem da sam bio dio tima koji je, sada već davne 2008. godine, prvi put izveo operaciju laserske korekcije dioptrije u Bosni i Hercegovini. Danas su refraktivne hirurške procedure, kao što su LASIK, Epi-LASIK, PRK i LASEK dio moje svakodnevne rutine i istinski nikada ne bih mogao biti srećniji zbog toga.
Osim mojih svakodnevnih stručnih i naučnih aktivnosti, uživam i u menadžerskim poslovima. Već skoro osam godina na čelu sam Klinike Svjetlost u Banjaluci. Svi moji saradnici, doktori i medicinske sestre, su vrijedni mladi ljudi na koje sam svaki dan sve više ponosan.