Lots of people dread getting their eyes dilated at eye exams. The dilating drops often make patients light sensitive, can cause difficulty focusing up close, and require a ten to fifteen minute wait to take effect. However, dilation is an important part of a complete eye exam.
Dilation drops temporarily make the pupil larger. This gives the doctor the ability to see more of the inside of the eye. The doctor is able to view the retina, optic disk, and blood vessels. The effects of the dilation drops usually wear off after about three hours.
Having access to the back of the eye helps the doctor diagnose diseases and eye conditions such as retinal detachment, macular degeneration, cataracts and glaucoma. Even high cholesterol and diabetes can be seen with a dilated eye exam. Early detection is an essential part of successful treatment for these conditions, making dilated exams very important to eye health.
Light sensitivity and difficulty reading for a few hours after the exam is a small price to pay when it comes to maintaining healthy eyes.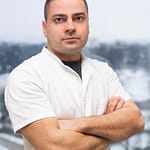 Bojan Kozomara (Banjaluka, 30. decembra 1978) je doktor medicine, specijalista oftamologije i direktor specijalne oftalmološke bolnice Svjetlost Banja Luka.
U svom rodnom gradu završio je Gimnaziju i Medicinski fakultet, a 2009. godine specijalizovao se za oblast oftamologije. 2016. godine postao je magistar medicinskih nauka iz oblasti oftamologije, a svoju profesiju usavršio je na Klinici za očne bolesti, VMA Beograd, Srbija, te na Klinici Oculistica Universita "Careggi", u Firenci, Italija. Nakon završene specijalizacije u Italiji, odlučio se vratiti u rodnu Banjaluku i tu pokrenuti privatnu kliniku, koja će za vrlo kratko vrijeme postati popularna i prepoznatljiva u regionu, ali i svijetu.