The same people who make a point of scheduling an annual physical often don't get regular eye exams. However, eye exams are crucial to overall health and continued independence, particularly as you age. Annual eye exams hold several benefits that will increase your health and satisfaction with life.
Prevention of Common Eye Diseases
Most people don't consider blindness a real possibility in the era of modern medicine. But blindness can still disrupt life for many people through cataracts, retinitis pigmentosa, genetic disorders, and other diseases. Although they do not cause blindness, other eye diseases affect patients every year. These include uveitis, conjunctivitis, and more serious conditions such as glaucoma or diabetic retinopathy.
The good news is experts believe that at least half of all blindness is preventable with regular exams and vision correction. Sometimes, the correction is as simple as changing the lens prescription in a pair of glasses. Other times, an eye condition may require antibiotics, surgery, or other long-term treatment. Yet if caught early, many eye diseases can be cured.
An Indicator of Visual Acuity
Many patients don't recognize their vision is deteriorating until they go in for a routine eye exam. Children, teens and young adults in particular may not know they're not seeing well because they unconsciously compensate for poor vision. For example, a child who needs glasses might turn more lights on when reading or hold the book close to his or her face, so the problem goes unrecognized. Annual eye exams can tell you where your vision stands at any given time and if you need glasses or another treatment.
An Opportunity to Ask Questions
If there is a bothersome vision question, an eye exam is a good opportunity to ask. Many people are scared to ask their eye doctors questions because of what they might find out, but doctors would rather have you post a question than be surprised. For example, if diabetes runs someone's family and he/she are worried about developing diabetic retinopathy, the one should ask about prevention at an exam before symptoms develop. If there are chronically dry eyes present, it should be asked about treatment early before it develops into something more serious.
Detection of Other Health Risks
The expression "the eyes are the windows to the soul" also applies to your overall health. An annual eye exam will tell your doctor plenty about the rest of your body. For instance, a retina with tattered edges may indicate you have severe migraines or a brain tumor. Blood in the back of the eye may indicate you've developed diabetes. A doctor who notices consistently bloodshot eyes or sudden vision problems in a teen or young adult may be able to pinpoint drug use.
Additionally, doctors can use the results of previous eye exams to determine whether vision is at the root of another health problem. Eye exams are crucial to the maintenance of good vision and overall health. Without them, your vision may deteriorate over time until it cannot be salvaged.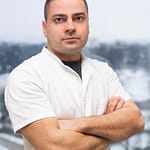 Još od ranog djetinjstva bio sam oduševljen oftalmologijom, za mene najljepšom granom medicine. Pošto sam ujedno bio i dijete profesora oftalmologije, za mene je put moje karijere bio sasvim jasan i vidljiv. Nakon završetka srednje škole i uspešnog okončanja studija na Medicinskom fakultetu Banja Luka, radio sam sve što je bilo moguće kako bih se jednog dana mogao zvati i "oftalmologom." Sreća mi se osmijehnula, te sam nedugo po završteku studija dobio specijalizaciju iz oftalmologije u Kliničkom centru Banja Luka.
Trud i rad svakog ambicioznog i vrijednog studenta je bezvrijedan ako uz njega nije talentovan, požrtvovan i nesebičan mentor. U mom slučaju, to su bila dvojica ljudi koji su mi omogućili da u profesionalnom smislu postanem ovo što danas jesam. Prva osoba je moj pokojni otac, koji mi nije samo prenio ljubav prema oftalmologiji, nego je bio i najveća podrška mojoj karijeri. Druga osoba je moj "drugi otac", prof. Nikica Gabrić, osnivač i vlasnik Klinika Svjetlost. On me je učio ne samo oftalmologiji i najnovijim vještinama, nego i filozofiji i psihologiji života. Zahvaljujući njemu, danas sam ne samo bolji oftalmolog, nego i bolji čovjek.
Liječenje bolesti oka nije uvijek lako, ali je sigurno uvijek interesantno. Živjeti i raditi u zemlji u razvoju i regionu punom izazova nije nikada bez uzbuđenja. Stoga sa ponosom mogu da kažem da sam bio dio tima koji je, sada već davne 2008. godine, prvi put izveo operaciju laserske korekcije dioptrije u Bosni i Hercegovini. Danas su refraktivne hirurške procedure, kao što su LASIK, Epi-LASIK, PRK i LASEK dio moje svakodnevne rutine i istinski nikada ne bih mogao biti srećniji zbog toga.
Osim mojih svakodnevnih stručnih i naučnih aktivnosti, uživam i u menadžerskim poslovima. Već skoro osam godina na čelu sam Klinike Svjetlost u Banjaluci. Svi moji saradnici, doktori i medicinske sestre, su vrijedni mladi ljudi na koje sam svaki dan sve više ponosan.