The same people who make a point of scheduling an annual physical often don't get regular eye exams. However, eye exams are crucial to overall health and continued independence, particularly as you age. Annual eye exams hold several benefits that will increase your health and satisfaction with life.
Prevention of Common Eye Diseases
Most people don't consider blindness a real possibility in the era of modern medicine. But blindness can still disrupt life for many people through cataracts, retinitis pigmentosa, genetic disorders, and other diseases. Although they do not cause blindness, other eye diseases affect patients every year. These include uveitis, conjunctivitis, and more serious conditions such as glaucoma or diabetic retinopathy.
The good news is experts believe that at least half of all blindness is preventable with regular exams and vision correction. Sometimes, the correction is as simple as changing the lens prescription in a pair of glasses. Other times, an eye condition may require antibiotics, surgery, or other long-term treatment. Yet if caught early, many eye diseases can be cured.
An Indicator of Visual Acuity
Many patients don't recognize their vision is deteriorating until they go in for a routine eye exam. Children, teens and young adults in particular may not know they're not seeing well because they unconsciously compensate for poor vision. For example, a child who needs glasses might turn more lights on when reading or hold the book close to his or her face, so the problem goes unrecognized. Annual eye exams can tell you where your vision stands at any given time and if you need glasses or another treatment.
An Opportunity to Ask Questions
If there is a bothersome vision question, an eye exam is a good opportunity to ask. Many people are scared to ask their eye doctors questions because of what they might find out, but doctors would rather have you post a question than be surprised. For example, if diabetes runs someone's family and he/she are worried about developing diabetic retinopathy, the one should ask about prevention at an exam before symptoms develop. If there are chronically dry eyes present, it should be asked about treatment early before it develops into something more serious.
Detection of Other Health Risks
The expression "the eyes are the windows to the soul" also applies to your overall health. An annual eye exam will tell your doctor plenty about the rest of your body. For instance, a retina with tattered edges may indicate you have severe migraines or a brain tumor. Blood in the back of the eye may indicate you've developed diabetes. A doctor who notices consistently bloodshot eyes or sudden vision problems in a teen or young adult may be able to pinpoint drug use.
Additionally, doctors can use the results of previous eye exams to determine whether vision is at the root of another health problem. Eye exams are crucial to the maintenance of good vision and overall health. Without them, your vision may deteriorate over time until it cannot be salvaged.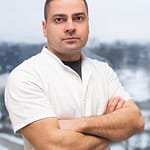 Bojan Kozomara (Banjaluka, 30. decembra 1978) je doktor medicine, specijalista oftamologije i direktor specijalne oftalmološke bolnice Svjetlost Banja Luka.
U svom rodnom gradu završio je Gimnaziju i Medicinski fakultet, a 2009. godine specijalizovao se za oblast oftamologije. 2016. godine postao je magistar medicinskih nauka iz oblasti oftamologije, a svoju profesiju usavršio je na Klinici za očne bolesti, VMA Beograd, Srbija, te na Klinici Oculistica Universita "Careggi", u Firenci, Italija. Nakon završene specijalizacije u Italiji, odlučio se vratiti u rodnu Banjaluku i tu pokrenuti privatnu kliniku, koja će za vrlo kratko vrijeme postati popularna i prepoznatljiva u regionu, ali i svijetu.